A Towel Day Adventure
As any Hoopy Frood will know May 25th is Towel Day and to celebrate you could sit down with the book, or watch the TV show or the movie, or you could just read a towel. But instead why not dust off the 1980's text adventure of the Hitch Hikers Guide to the Galaxy.
To save you finding an old 486 and dusting off those MS-DOS disks there's several ways of getting this Infocom classic running on your modern computer, here's a guide to some of them.
On the web you can play a Java version at douglasadams.com or a flash version from the BBC (unfortunately I couldn't get this to work). But for the full original DOS game experience on a Windows 7 PC you can pick up the original game from various abandonware sites and use the cunning utility DOSBox.
Okay, so first you need to download the following
First run the DOSBox installer. This is a straightforward installer and will leave you with a shortcut on your desktop or start menu.
Next, extract the HHGTTG ZIP file, I'd suggest putting the HITCHHIK.EXE and HITCHHIK.DAT files into a folder such as C:\Temp for convenience. Then launch DOSBox from the shortcut.
In the DOSBox window, you'll see a regular DOS prompt, but before you can use the game you'll need to mount the folder from your Windows 7 machine, this can be done with the command
(obviously replacing C:\TEMP with wherever you unzipped your files to). Then launch Hitchikers with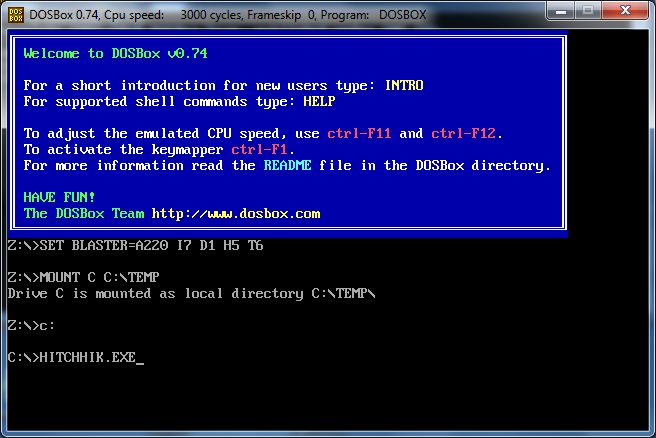 Now you wake up. The room is spinning very gently around your head……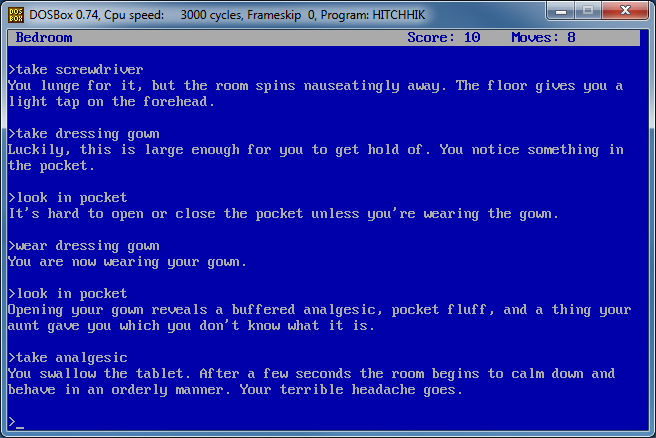 Have a great Towel Day.