Azure Arc Announcement
Microsoft released an 87 page "Book of New listing the announcements  from this weeks Ignite Conference and right at the top is Azure Arc. It's not just alphabetical order that put's this new product here, in my opinion this is a real step forward by Microsoft towards fulfilling the early promise of their Azure Hybrid Cloud model.
Arc's first feature provides the ability to run Azure data services – Azure SQL Server and friends- on any platform, be it on-premises, on an edge device, or in the public cloud. We saw VMware advertising this from their point of view in the VMworld Europe keynote this week. Bringing Platform-As-A-Service to your own platform, or those at another cloud provider, is an interesting concept and vital to the idea of a true hybrid environment where you can run any app on any cloud.
Whilst Azure stack provided "Azure consistent hardware" in your datacentre, Azure Arc continues this journey – in essence expanding what "Azure consistent" means to the customer in terms of data services.
Azure Arc also extends the security, governance and management from Azure into other environments – coming back to a single architecture.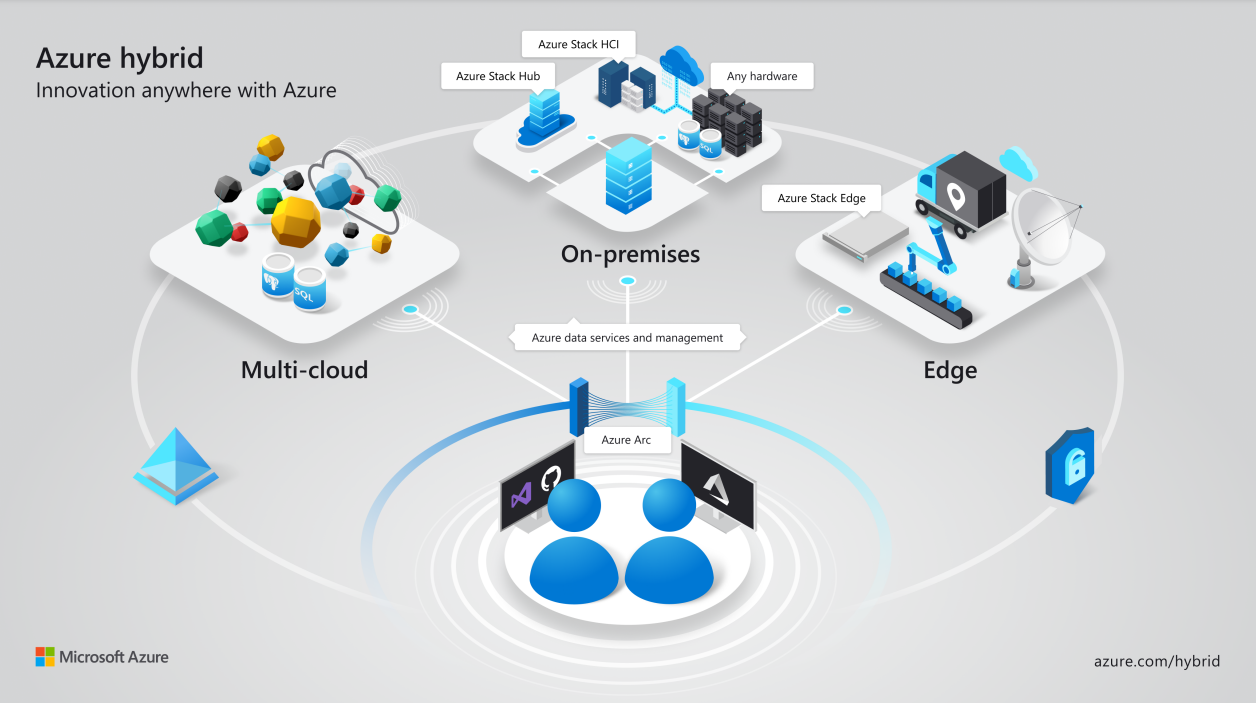 For me this is the key feature of this technology. With Azure Arc sitting at the heart of the Azure Hybrid model we're one step closer to that utopia where the datacentre is abstracted away in the same way that virtualisation abstracted away the server hardware. You can do this abstraction in the public clouds, but there are still workloads that have regulatory, financial, or technical reasons for staying on-premises (or even a different public cloud) and until now managing these alongside Azure has meant two different platforms.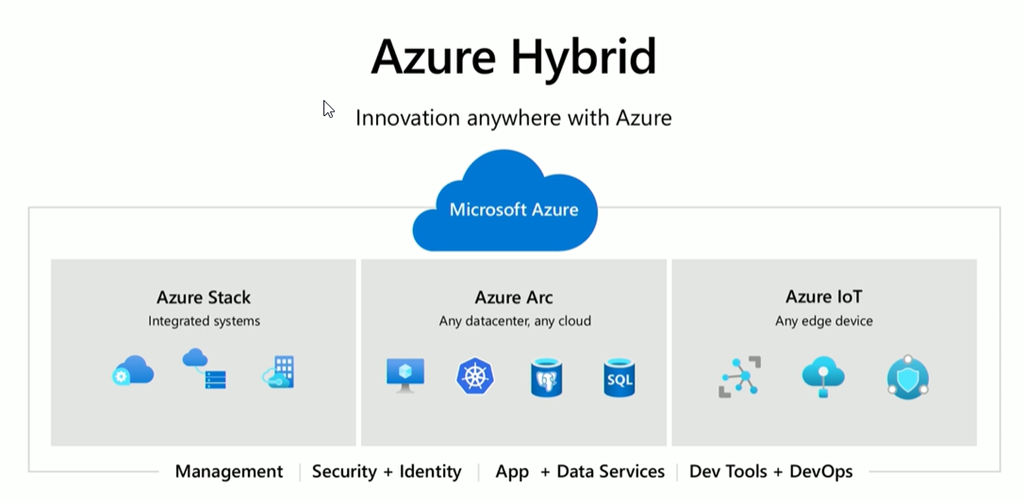 ]
Previously Azure Stack (and to a certain extent Azure Stack HCI) came close to providing this true hybrid functionality for Microsoft but there was still a disconnect- you have to visit a separate Azure portal to manage your on-premises Azure Stack "Region" for example.
In the Arc environment, an Azure agent is deployed to non-Azure VMs (or physical servers) and then they appear on the Azure Portal as a regular resource. Policies can be applied and compliance audited (remediation is expected in the "next few months"). The people in your Security Team who got excited about what was possible with Policies in Azure can now apply the same policy features to VMs in your datacentre and from the same interface.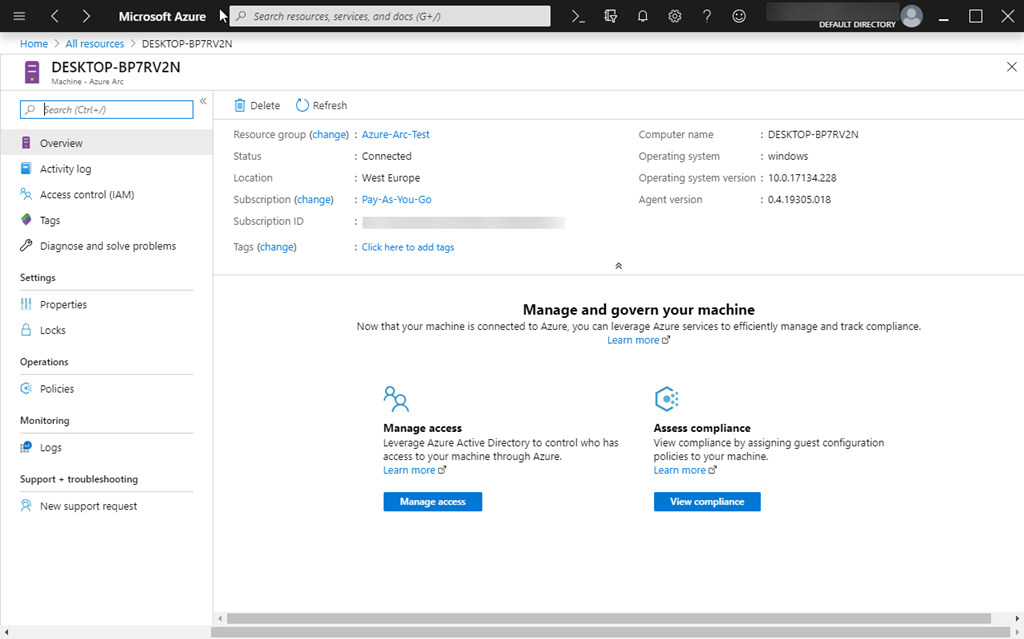 ]
As I implied above, this is still a journey in progress and I believe Microsoft have further to travel down this roadmap, but this is definitely a big step along their way and provides very useful features now and promise of an even brighter future.
As you would expect, there's a number of recorded sessions at Microsoft Ignite 2019 covering this new product following it's announcement in the keynotes. If you're interested in finding out more I would suggest starting with BRK2208 : Introducing Azure Arc. Azure Arc is currently available in Preview and usable from the portal today.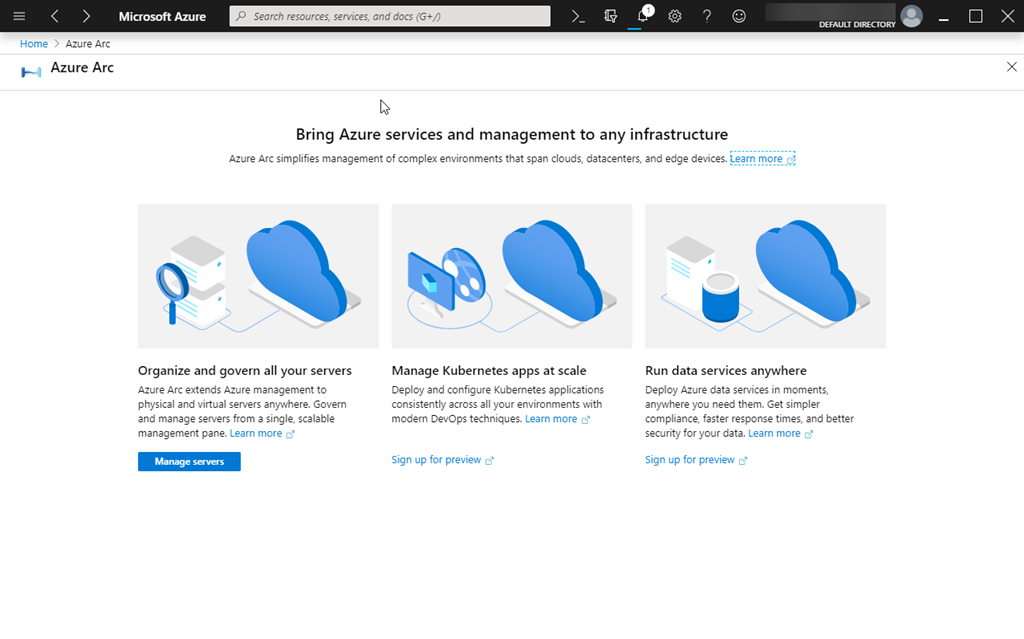 ]