Microsoft Certification Renewal
This week I received notification that my Azure Administrator Associate (AZ-104) certification was due to expire in 180 days, and I took the opportunity to renew it using the free online renewals process.
Notification
The email arrived 6 months before the certification was due to expire, giving me plenty of time to renew it, but there's no time like the present so I cracked on.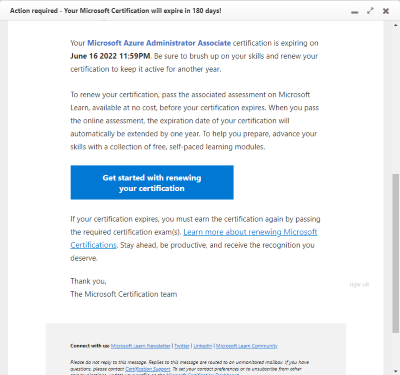 Preparation
I admit that I didn't do any specific preparation for this. The renewal process allows you to retake immediately if you fail, and then once every day until the certification expires, so I thought I'd try my luck once and see where I stood with no specific reading up. This would also give me the opportunity to see where my strengths and weaknesses lied by using the post-assessment review.
Clicking on the link in the email takes you straight to the renewal page. This includes a summary of the renewal, a link to take the assessment, and some (optional) material on MS Learn to bring you up to date. Be aware that the syllabus may have changed since your original exam so it's worth checking that out.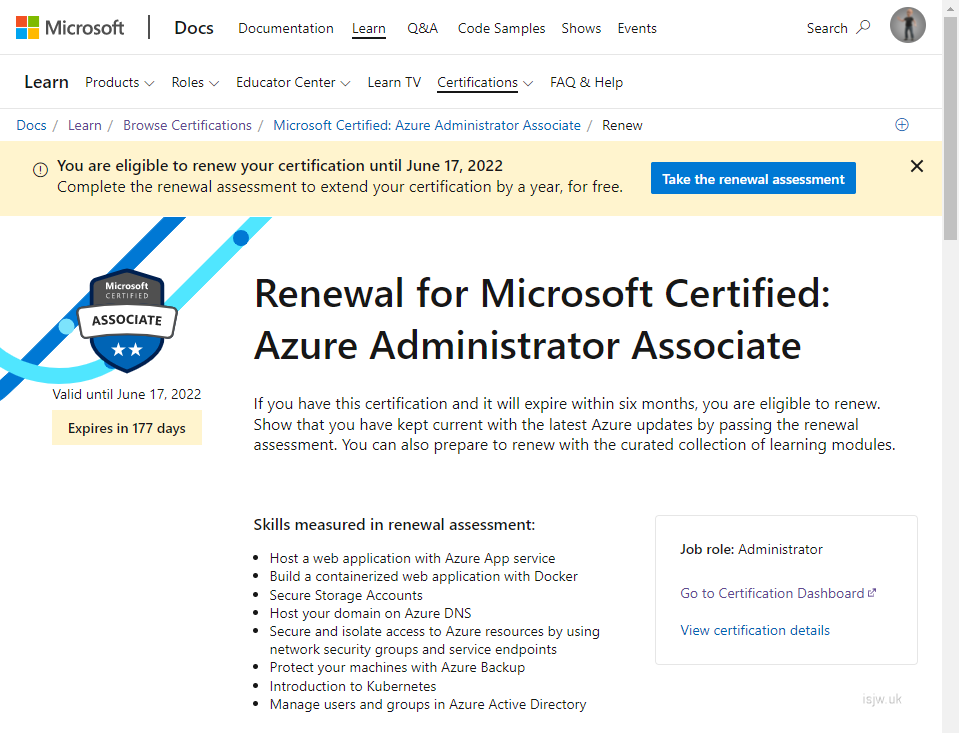 Assessment
When you're ready to go click the "Take the renewal assessment" button and it will start straight away.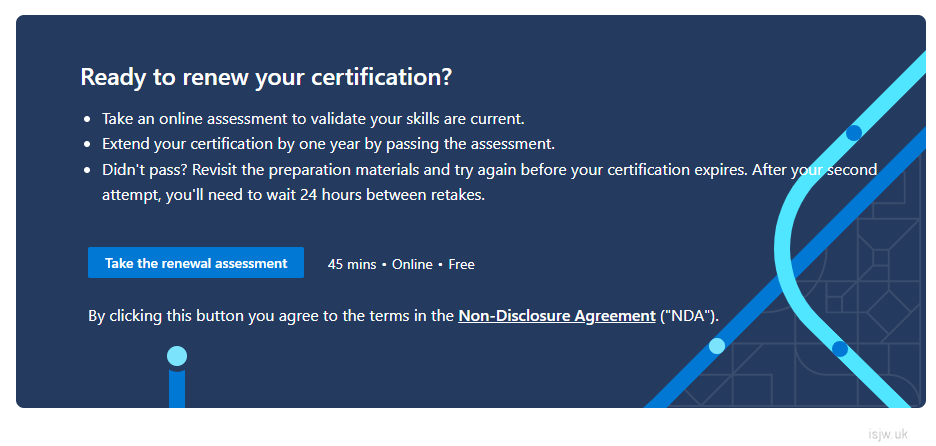 My particular exam had 28 multiple choice questions, some requiring more than one answer to be selected, but your experience may differ. I finished within the prescribed 45 minutes but apparently there is no time limit, and because the exam is not proctored there's not a problem answering the doorbell halfway through to collect a delivery. However, there's no option to go back, so it's not like the traditional proctored exams where you can usually go back and review your answers.
The question layout will be familiar to anyone who has taken an MS exam, or answered the Knowledge Check questions in MS Learn modules. There's usually a short piece of text and then four or five answers to choose from. Pick the correct number of answers, click Next, and repeat until all the questions have been answered.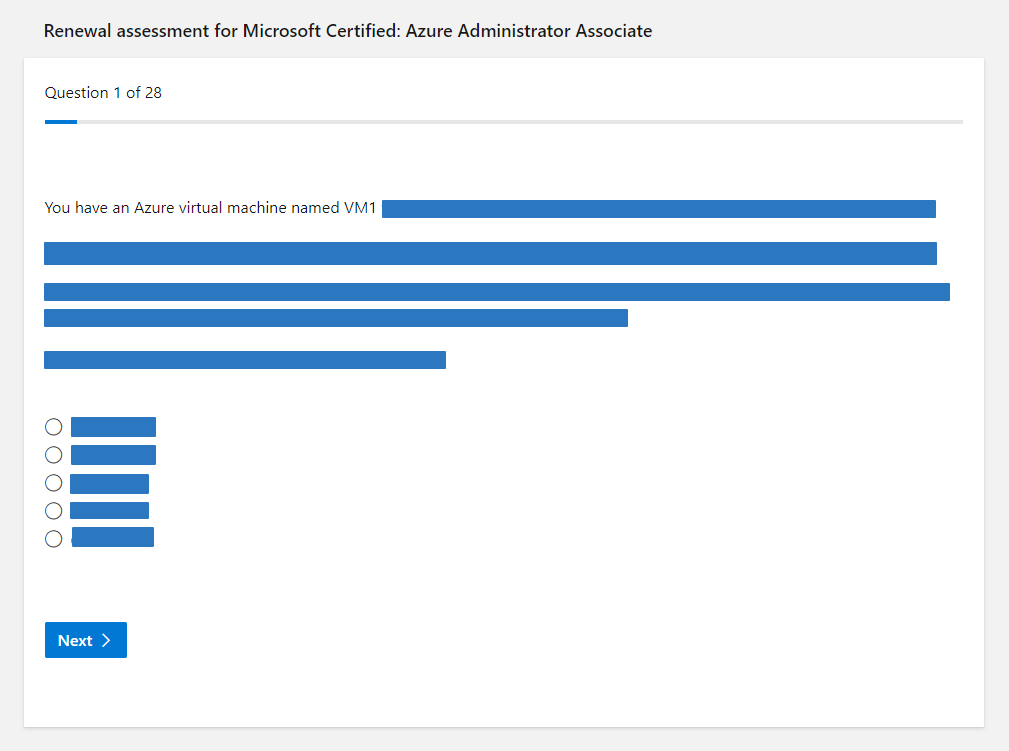 Result
On clicking the final submit a happy message popped up telling me that I'd passed. A year has now been added onto my renewal date (not a year from now, but a year from that original renewal).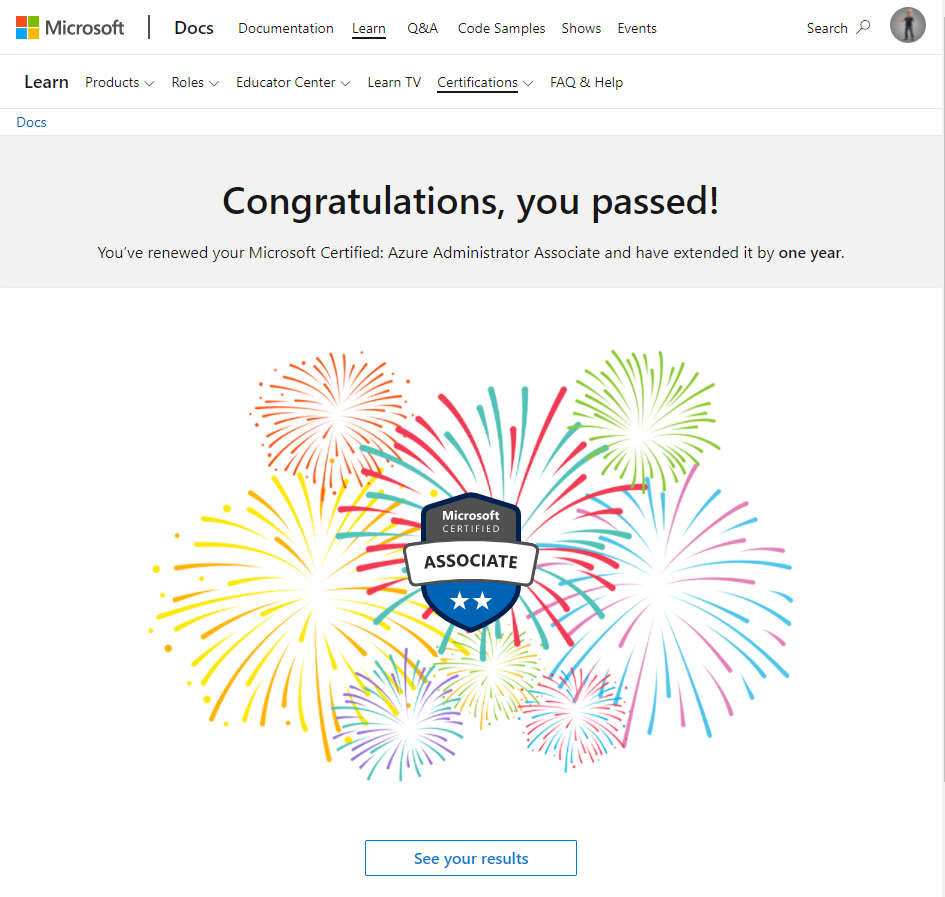 There was also the opportunity to review my scores in the various sections of the assessment, and I've got a couple of topics I'm going to go back and read up on.