#vBeers-trying out a new gathering
vBeers- "an opportunity for virtualization enthusiasts and professionals to meet and enjoy discussing all things virtualization and anything else in the world of tech"
vbeers.org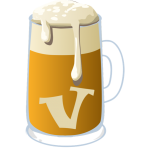 Over the past year or so I've bumped into a number of fellow virtualisation pro's in the community who live in the commuter belt around London. We've often met up for a #vBeer or two in the capital, and I've floated the idea of a "vBeers in the Country"- i.e. evening meetups in a pub to talk tech but held outside of the M25. The suggestion was generally well received, so I set about putting something together. Here's an insight into went on to organise this in case anyone finds it useful in putting on their own event.
Working out Availability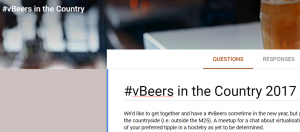 Whilst I could have gone with the option of "My local, two weeks on Wednesday", I decided to try and find out when people were usually available and where they were likely to travel to for a meetup. That way we could organise something with potentially better attendance. I chose a selection of locations that I could get to by train (I thought it would be nice if I could go too :) ) and put together a survey on Google Forms to find out what night the majority of respondents would be available, and where they would be interested in going to.
Picking a time and a place
We had a number of responses, and the results clearly pointed to a Thursday night in Guildford being the favoured option. Picking a particular Thursday was the next step. I was keen to avoid clashing with other tech events (local VMUGs, Cloud Camps, AWSome Days, etc.) that people might be interested in, and also avoiding January – paychecks are often stretched that month and some people join in with the "Dry January" events for charitable or health reasons which don't necessarily play well with an evening in a pub.
Next up was picking a suitable venue. Guildford is lucky to have a number of nice public houses and many are close to the train station. Carefully navigating the calendars of the various hostelries I discovered that one of the nice riverside pubs, the Britannia, was open for food and drink and didn't have a band or pub quiz happening on the evening in question. One twitter and email chat later and the nice staff there even reserved a table for us- and seemed happy with my "I've no idea how many people will turn up" position.
Getting the word out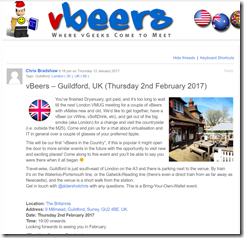 The vBeers.org website ("Where vGeeks Come To Meet") was my first point of call following a suggestion from Jane Rimmer.  Once the page there was published I started getting the word out on the Twitters and via tech Slack groups I'm in. We also had a London VMUG event before the date and Simon Gallagher kindly plugged the event in his opening slides and it gave me the opportunity to tell people in person.
The Results
Well, after a nervous 15 minutes sat in the pub wondering if I'd be spending the evening on my own with a beer (hey, even failure has it's benefits!) Dave and Andy, both friends and fellow vExperts from the London VMUG, were the first to arrive and the evening got going. In amongst some excellent food and drink we discussed all manner of things technical- from the new VMware releases to our latest war stories and (as Andy was bribed with points to come along) the current batch of CloudCred tasks.
What Next?
Whilst the number of attendees wasn't massive I think we all had a good time, so I'd like to carry on the idea and see if it grows. I'll be thinking about organising another event later in the year, possibly moving the location around- if anyone knows of a nice country pub with good food, good beer, and a garden which is close to a station let me know and we might go there in the summer. Cheers!