London VMUG June 2016
A rainy day in June saw me back in London for the latest VMware User Group event. For anyone who works with VMware products but has never been to a VMUG I cannot stress enough how great they are. VMUG is a community focussed and community run event filled with a bunch of really friendly, knowledgeable IT Professionals, and- thanks to vendor sponsorship- it's free of charge so there's little or no impact on your training/conference/personal budget or wallet.
Simplivity HCI for vSphere
This London event kicked off with a talk from one of the sponsors- Simplivity- discussing their Hyper-converged Infrastructure products for vSphere environments. This HCI solution is available as a turnkey appliance, or with third party hardware, such as Cisco or Lenovo.
The presentation and demo mentioned how crucial deduplication and compression are to this technology. Aside from saving physical disk space, there's also the added benefits of backup and restore becoming faster and less costly from a network perspective.
For example when restoring a backup the software starts by sending the metadata- block hashes of the deduped backup. The target system can then determine which blocks it already has and which it doesn't and only those new blocks need to be transmitted across the LAN/WAN to the system where the restore is happening. Additionally, these are the only blocks that need writing to disk so the amount of time spent on disk activity is also cut.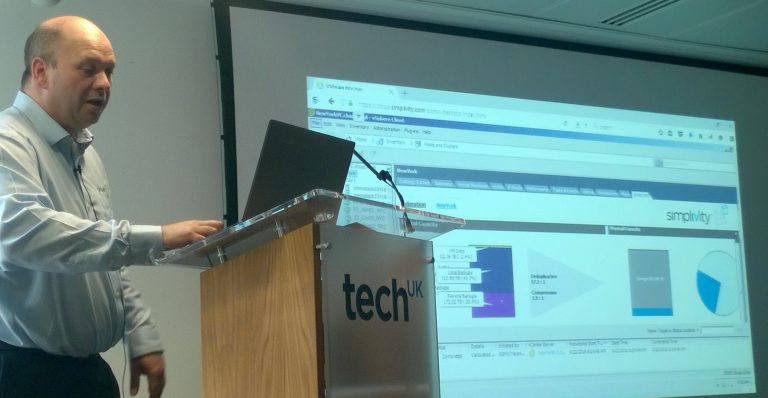 Server Hugger or "To the Cloud"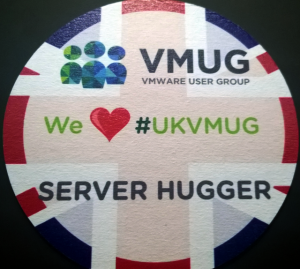 Following this we had a more light-hearted session. As it was the day of the Brexit vote, two teams of speakers attempted to persuade the attendees to be a Server-Hugger and vote to remain in the datacentre, or take the alternate path and vote to Leave for the Cloud. The general consensus was that Hybrid was probably the best option, but as that wasn't offered it was down to the two choices and the Server-Huggers won the day.
VMware EUC Update
After a quick break the meeting split into two tracks. I opted for the VMware EUC update with Howard Bliss covering developments in WorkspaceONE, Horizon, and TrustPoint.
WorkspaceOne is a great idea- taking the EUC features of Airwatch, Identity Management, and Horizon and packaging them up in one platform. From the end-user point of view this looks slick, they download an app for their device from the regular appstore, sign in with their corporate email address, a profile is installed over the net and they are all set. However I'm not sure it's a fit for me from a Higher-Education IT point of view as the licensing is per-seat not based on concurrent users. Licensing this for tens of thousands of students a year could get expensive very quickly.
Horizon 7 went GA in March, and is "Hybrid-Cloud Ready"- offering the ability to manage cloud and on-prem VDI environments through a single pane of glass. Just-in-time Delivery means that 2000 desktops can be deployed in under 20 minutes, making the pre-loading of VMs for the start of a working day no longer necessary. This is helped along by February's release of AppVolumes 3- apparently a preview of even better things to come later this year.
The Horizon Client has been improved, offering offloading of encoding from the CPU to an NVidia card and Blast extending to Linux to allow software encoding of Linux desktops. There's also better integration with the OSX Keychain on the Mac client, and Aero window snapping, credential passthrough, and keyboard locale improvements in the Windows version.
The final piece of this EUC triumvirate is TrustPoint- The Image Service (Mirage) and the Security Platform (Tanium). The Image Service provides some useful abilities for those looking to do Win7 to Windows 10 migrations- including the ability to do an in-place upgrade from x86 to x64 platforms if you have any 32-bit installations that you want to lose. Amongst the benefits of the Security Platform is the ability to pick up and report on unmanaged endpoints appearing on the LAN within 15 seconds of them connecting.
SysTrack EUC Analytics
After lunch I chose the Lakeside Software session on using SysTrack in a Horizon Environment. In a bid to avoid PowerPoint poisoning they treated us to a short marketing video (see below) and then it was straight into a demo of the product in action.
I've used other tools in this space before, but it was interesting to see what SysTrack offers as an End-User analytics tool. There's lots of information there and the ability to answer many questions- how many users are having a poor experience? (and is this number going down over time?) Are users in a particular department or location suffering? What resources do we need to migrate traditional desktops to VDI?
Data is collected by an agent that sits on the endpoint which works alongside browser plugins and VMware API calls for the monitoring of services hosted by vCenter. This agent data is pushed to a collector once a day to provide this trend analytics ability but there's also realtime monitoring of the environment- spotting the apps causing a current peak in network traffic for example.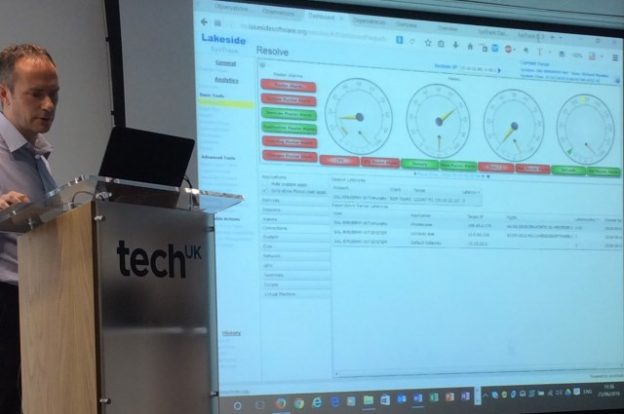 Boldly Going Where No DC has gone before
The formal part of my day concluded with a session titled "Extreme VMware Datacentres", a chance for some of the more seasoned VMUG members to discuss their best war stories. We heard about some of the "awesome" places that VMware datacentres have ended up - in everywhere from dusty warehouses to nuclear submarines (you put a datacenter at each end so you can make end-to-end failover jokes!)or dark sites where nothing goes in or out, especially not a USB stick with an installation script on. Each location provides it's own set of challenges, and requires the IT Pro to come up with new and unique solutions. This was thoroughly entertaining content from some community speakers.
Thanks!
No VMUG post would be complete without a personal thank you to the sponsors- Simplivity, Tintri and Lakeside Software. Further thanks to 10-Zig, PernixData, and Nutanix for sponsoring the after-event vBeers. Finally, thanks again to the London VMUG committee for organising a great event.
The UK national VMUG User Conference, held in Birmingham, is in November and I hope to make it. Maybe I'll see you there?