UK VMUG 2021- Live and In-Person
After being online only in 2020 the UK VMware User Group event was back with a bang, catering for both online attendees and those making a return to Leicester last week. These are my highlights of that event.

My trip to Leicester was a welcome return to in-person events for me. Whilst I've really appreciated the opportunity to virtually attend many events over the past couple of years that I wouldn't have been able to make physically, the experience just isn't the same. The physical event gives the opportunity to totally immerse in the subject at hand for the whole day (or days!) without (as many) interruptions. It also enables the impromptu discussions that happen around the scheduled sessions- I find that even with the AR/ Discord/ WhatsApp/ Slack technological solutions that event organisers have been putting in place, the opportunities didn't appear for the more random, accidental conversations that often produce the most interesting results.
My conference started on the Wednesday evening with an informal catch-up meal in the hotel, and then first thing Thursday a group of us set out into the cold for a pre-conference sunrise #vFit run to get the blood flowing. Then it was time to get to our seats ready for the sessions to begin.
Keynote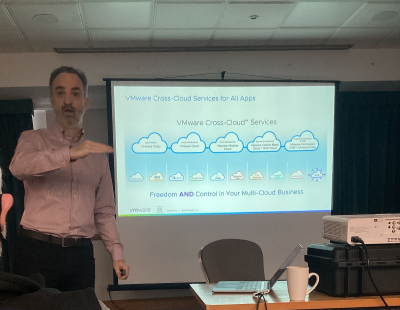 Since it started, the UK VMUG has been opened with a keynote from VMware UK EMEA CTO Joe Baguely- making this his 11th appearance. He introduced with a look at the journey of VMware over that time; in 2011 the Office of the CTO started with about 14 people, this has now grown to over 2000 employees working on the future of the company. He divided the history of VMware into three stages: the first 10 years from 1999 was all about Virtualisation, this was when IT took all those bare metal servers and consolidated them onto a hypervisor. The next 10 years was all about the private cloud, adding the flexibility and automation around clusters. Now that journey continues with a focus on multi-cloud and applications and this is where he sees VMware is ideally placed by providing that consistent layer across both on-premises environments and all the major public clouds.
Joe also covered a lot of the new and upcoming projects they have been working on from quick uploads of video from police cars, to bringing virtualisation to the electrical power grid, or even soft drink dispensers. There's definitely the impression that exciting things are happening in VMware and they are continuing to innovate and grow.
Dell
Amit Panchal, VMware Technology Lead at Dell Technologies, was here to tell us how Dell was working to support the VMware Tanzu platform. There's a variety of solutions available, from a roll your own PowerEdge, through HCI ReadyNodes, to the lifecycle-managed, fully engineered VXrail. The VXrail offers a tested and validated stack with a quarterly update cadence and a single support point and brings together Tanzu App Services, Kubernetes Grid, vSphere NSXT, DellEMC Networking and VXRail, and an ECS object store all in one package.
Migrations with HCX
Bilal Ahmed and Chris Dooks gave my next session with a dive into the different types of migrations possible using HCX. This solution offers a number of options for migration between vSphere environments both on-premises, externally hosted, or in the public clouds.
HCX allows for hot or cold migrations, or bulk or individual movements. This choice creates the flexibility for customers to tailor their migration to meet the needs of their business, meeting project timelines but allowing for downtime limitations on the applications.
Anything as a Service
After a quick break and opportunity to talk to some of the event sponsors, I chose to go and see Katherine Skilling and Sam McGeown talking about vRealize Automation Extensibility. Another good session, and featured some live demonstrations of tackling dynamic types with alternative toolsets in the vRealize suite.
Tanzu
After lunch Sundar Thovali from VMware took us through the many, many components in the world of Tanzu with a focus on Tanzu Community Edition (see tanzucommunityedition.io) and the Tanzu App Platform. The presentation included a dive into the acronymn soup of Tanzu components. Just from my notes I made:
TAS Tanzu App Service
TAP Tanzu App Platform
TCE Tanzu Community Edition
TBS Tanzu Build Service
TAC Tanzu Application Catalogue
TDS Tanzu Data as a Service
TMC Tanzu Mission Control
TSM Tanzu Service Mesh
TKG Tanzu Kubernetes Grid
Machine Learning Infrastructure
VMware's Frank Denneman wasn't able to travel to the UK last week so we got to hear him talk about "Machine Learning Infrastructure, from a vSphere infrastructure perspective" over a Zoom video link. Putting the hybrid into in-person events!!
The #UKVMUG afternoon continues here in Leicester with the @FrankDenneman watch party in Room 1. pic.twitter.com/EzZIk7ZSs7

— Chris Bradshaw (@aldershotchris) November 25, 2021
In this session Frank told us how Machine Learning is everywhere these days, and how you need to take into consideration ML/AI workloads on your virtual infrastructure as their needs can drastically differ from more traditional VM workloads.
Azure VMware Solution
Andy Jenkins from VMware led my penultimate session to talk about multicloud with the Azure VMware Solution (AVS). As with the similar offerings with Google Cloud and AWS, there's often a question around why an organisation would add the expense of running their Virtual Machines on top of vSphere on top of the public cloud, rather than just natively on the cloud provider. Andy addressed this by discussing several scenarios fro some of their 300+ customers.
The most popular scenario is the need for a temporary datacentre extension- the on-premises environment is full but a particular workload has a temporary need to grow. Perhaps this is a seasonal operation, or a period of unexpected growth in the business. The cloud is the ideal target here because of it's flexibility to grow and shrink on demand. Billing of AVS is on a 1 hour basis, or through a 1/3 year reserved instanc, so a small (or large) cluster can temporarily be added to an environment to host the additional instances of an application but using the same tools, methods, and procedures as the existing VMs on premises. When the operation is completed, or the on-premises datacentre expanded, this extra capacity can be scaled back down.
Another use case is where an organisation is looking to get out of their on-premises datacentre as soon as possible. Many VMs can be migrated into a regular cloud IaaS or PaaS platform without too much effort, but some are more complicated. Rather than being stuck running their on-prem environment just to cater for these tricky, complicated, and usually legacy, applications, IT organisations are using AVS to migrate these into a matching hypervisor hosted in an Azure DC, at which point the on-premises datacentre can be closed, or the colocation contract ended.
Robot Wars
Ed Hoppitt, VMware guru and Robot Wars World Champion (yes, really) rounded off the conference with a very entertaining look at the development of his fighting machines and showed the parallels with software design.
Conclusion
Thanks to VMUG and the UK VMUG team for putting on this event. It was great to spend the day back learning, catch up with old friends, and make some new ones.
In this post I could only scratch the surface of the content on offer, so keep your eyes peeled for the recordings which should hopefully be available shortly on the UK VMUG YouTube Channel UPDATE 11 Dec 2021- Videos of the day are now available here: https://vimeo.com/channels/1752545?s=03