VMUG London January 2016
The New Year brought a new venue and new committee members to the London VMUG meeting, now held at TechUK near Fleet Street. It was another great event, an informative and educational presentation of the latest and greatest in the VMware ecosystem without anyone pushing too hard for sales.
After some introductions and awards from the outgoing committee chair, the in-depth content started with a talk on endpoint security challenges and the solutions offered by Bitdefender presented by Solutions Architect Andrei Ionescu. With at least 12 million new malware detections every month keeping on top of protection is vital, but can get resource intensive- particularly with thousands of VM instances in environments such as VDI. The presentation covered how the scanning can be offloaded to a central, shared, resource within the Virtual Infrastructure and compared the benefits and downsides of using traditional "Fat" AV clients, Agentless solutions, and a "Light Agent" middle ground.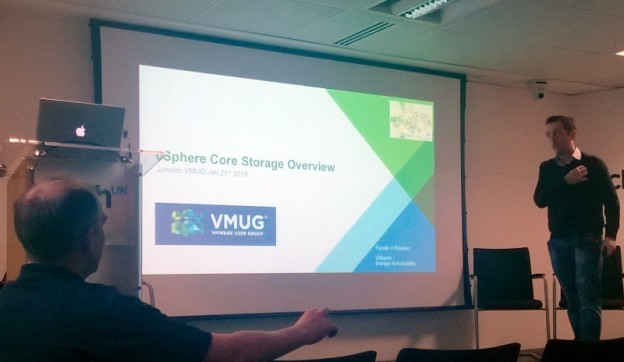 Next up was Paudie O'Riordan giving an overview of vSphere's Core Storage. A very interesting talk which touched on the history of features such as VMFS, UNMAP, NFS etc and the new and improved technologies coming to a Virtual Infrastructure near you soon. Highlights for me included the improvements to UNMAP (something I spend more time than I should using) including a pointer to William Lam's blog on scheduling the function and new ways of dealing with APD (All Path Down) situations in vSphere.
In-guest UNMAP support in #vSphere 6 could save customers thousands in storage costs and time! #LonVMUG

Alex Galbraith (@alexgalbraith) January 21, 2016
Before lunch I saw Stuart Thompson (@Virtual_Stu) and Simon Greaves (@SiGreaves) give their "Full VMware Stack Deployment Case Study". This was an impressive design, taking all the components from ESX to NSX, vRA to vSAN and everything imbetween, and deploying them at scale. I was amazed by the size of the management infrastructure that was produced by integrating all these components into the design.
Here's what a SDDC infra looks like. #LonVMUG! pic.twitter.com/jXFfGZvLfy

— Julian Wood (@julian_wood) January 21, 2016
Andrew Lawrence from Tegile gave a presentation entitled "Top 5 Reasons for Using Tegile with VMWare & How Barnsley College has Modernised Its VDI Environment". Spending my days in an Education institution I was hoping for a bit more focus on the work in the College than we got, but it was still a productive session as Andrew took us through the benefits of a Caching Architecture over a Tiered one and how to increase IOPS and decrease capacity requirements by using their technology.
I followed this up with a session on vRealize Automation 7 with Atif Qadeer. Automation is a vital cornerstone of the Software Defined DataCentre (SDDC), the technology can present self-service provisioning of not just Virtual Machines, but the entire surrounding infrastructure- taking in storage with VSAN datastores, networking with NSX, and the application layer- deploying and preconfiguring applications. Once this is in place, an end-user can (if they are entitled to) go to a webpage and request a load-balanced WordPress deployment for example in a few clicks and vRA will deliver and configure the required components. Also of note was the post-install automation, the VM can be deployed with the user having snapshot rights for example.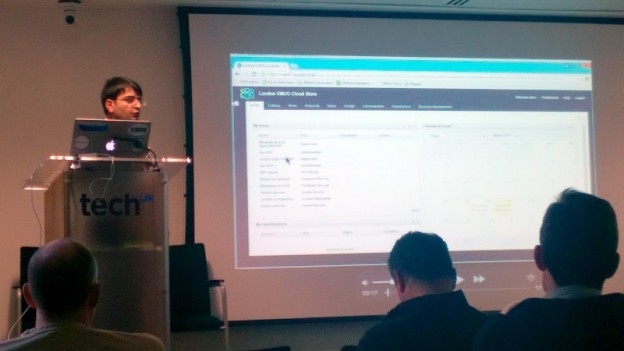 The day was finished off with an "Ask the Experts Panel". It's great after a day like this where my brain and notebook get filled up with not just solutions but more questions to be able to tap into the knowledge of the community. I even got some pointers on an upcoming vSphere upgrade I have planned, sparking further discussions at the 10Zig sponsored #vBeers afterwards.
The next London VMware User Group is in April, see you there?