VMUG London June 2017
Last month I was back in London for another VMware User Group meeting. There was a good mixture of familiar faces and first-time attendees all ready to lap up a day of learning. As usual I came away with pages of notes, so here's a rundown of my experiences.
Nimble Storage
Peter Evans from Nimble Storage brought us the first of the sponsor sessions- "What can a storage vendor bring to your virtualisation platform?". I've looked at Nimble before (including at this event) and their jewel-in-the-crown is still their Infosight analytics platform. This set the (possibly unintentional) theme for the sponsors today- plenty of analytics, machine learning, and predictive solutions.
90% of Nimble arrays are used with VMware infrastructures, and integration with SPBM and VASA features helps promote that. They've obviously worked hard to develop a reputation for reliability within that ecosystem. From their own figures they are reporting five-nines of uptime across all their customer estates partly helped by their cloud analytics which allow a problem at one customer to be proactively prevented at the others.
It will be interesting to see how the Nimble platform develops following the acquisition by HPE earlier this year. We were told at the VMUG that the analytics capabilities are expected to be integrated into the HPE storage platforms and we're already seeing some product announcements.
#VMWonAWS
First announced last year, VMware on AWS is arriving this summer and Frank Denneman was here to update us on the latest developments as this approaches that GA date.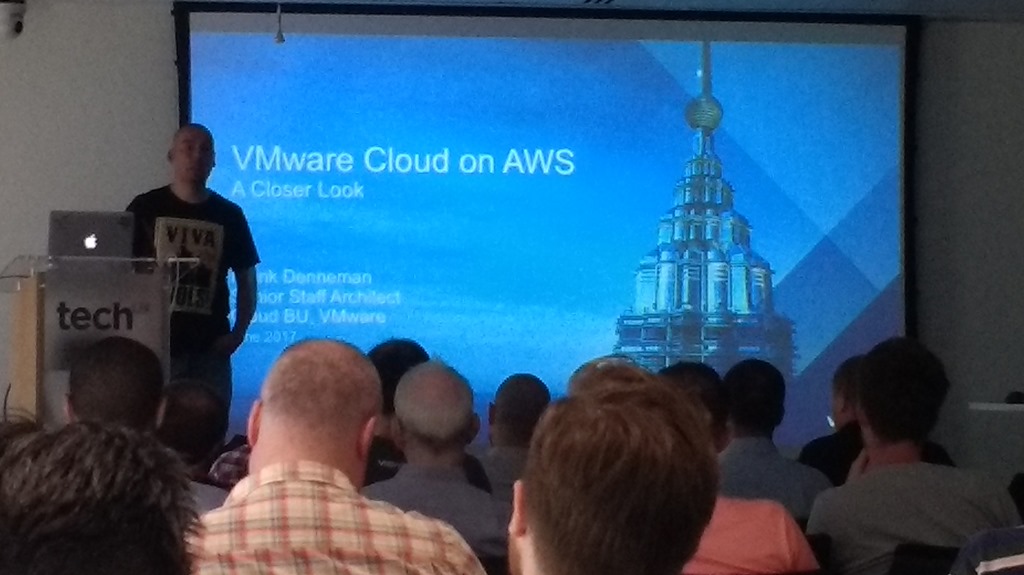 With most organisations having at least a hybrid cloud strategy, and others are looking even further towards zero datacentres, Frank explained how this can cause issues with those legacy applications. He went on to talk about how cloud providers expect high availability to be implemented at an application level- VMware solved this in the datacentre with vSphere HA, but short of building a new app from the ground up it can be difficult in a regular cloud setting to emulate this ability.
We were told how VMware on AWS takes bare metal servers on the AWS global infrastructure and installs the vCenter/vSphere/vSAN/NSX stack- basically offering private cloud on a public cloud provider and consistency with the existing on-premises solutions.

This gets even more interesting as we're promised that more and more of the native AWS services will be made accessible to the hosted VMware environment- there's definitely a buzz in the room when this is mentioned as people start thinking about the possibilities this opens up.
Serverless
In the last session of the morning Julian Wood asked us "Can I order some servers for my serverless please?"- an interesting session with an overview of the ideas behind serverless and how they fit in with our current technologies.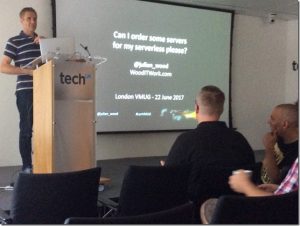 Julian offered an interesting metaphor here which helps explain "serverless"- Serverless has servers in the same way that a wireless network has wires. The servers are still there, but the interaction is with the functions (FaaS) or the backend systems (BaaS) rather than the tin, hypervisor, operating system, or container.
The three main offerings of Amazon Lambda, Azure Functions, and Google Cloud Functions were discussed, along with the differences between the FaaS and BaaS services- Functions are stateless, with logic whilst BaaS offers more data longevity (for example by writing to a database) but without any logic.
My impression is that this is a new technology finding it's niche with a few successful use cases (training service A Cloud Guru was mentioned as one) and adds another potential architecture to the catalogue of any modern application developer.
Blue Medora
After lunch there were two sponsor tracks available, SIOS were presenting in Track B and I picked Track A where Alain Geenrits and Ian Wells from sponsors Blue Medora were talking on "Predictive Analytics for IT Operations Using VMware vRealize".
This talk covered some of their range of vRealize Operations plugins which allow dashboards in vROps to present a wider view of the applications and infrastructure stack. These other components include storage from vendors such as Dell, databases such as MySQL and SQL Server, and then additional bits of infrastructure monitored through Nagios or SCOM.
Their system detects the relationship between these components, creating an inventory tree and helping explain to the admins and operators how the pieces of the infrastructure are interconnected.
Diving Deep
in the last session of the day Frank Denneman and Niels Hagoort gave an insight into some of the topics covered in their new book- "VMware vSphere 6.5 Host Resources Deep Dive". "Deep Dive" is a bit of an understatement here- and you'll have to buy the book to get the details- but there's some really good nuggets of information that everyone can use.
For example (and check out page 224-228 of the book for the full details)- are you aware of the impact on performance that can be created by filling memory slots in a server? The performance of all the memory can be severely reduced (by as much as 25%) by the controller to prevent signals overloading the bus when using 3 DIMMs per channel. To quote their words:
"DIMM population guidelines create a challenge whether the capacity can be solved using higher capacity DIMMs or taking the throughput hit as more capacity is only obtainable by populating all DIMM sockets."
Overall there was a good story behind the sessions at this event- from the core VMware hypervisor in the Host Deep Dive, through the surrounding ecosystem in the sponsor sessions and then out of the datacentre and "into the cloud" with talks on VMware on AWS and Serverless technologies. All of this was wrapped up by the community of attendees, speakers, and of course the VMUG Leaders who without the event wouldn't happen.
#vBeers
As in previous years the London VMUG team upped their game for the social after the summer event and Dave Simpson once again proved he could organise a booze up in a brewery.  Thanks are also due to Nutanix for sponsoring this part of the event.
So after the close of the event most of the attendees decamped to the FourPure brewery down the road in Bermondsey for a bit of drink, food, and talking shop. As always this was a great end to the day and a real opportunity to discuss the day's revelations alongside what we've all been up to back in the office. This really brings the community together and is, in my opinion, one of the major selling points of the user group experience.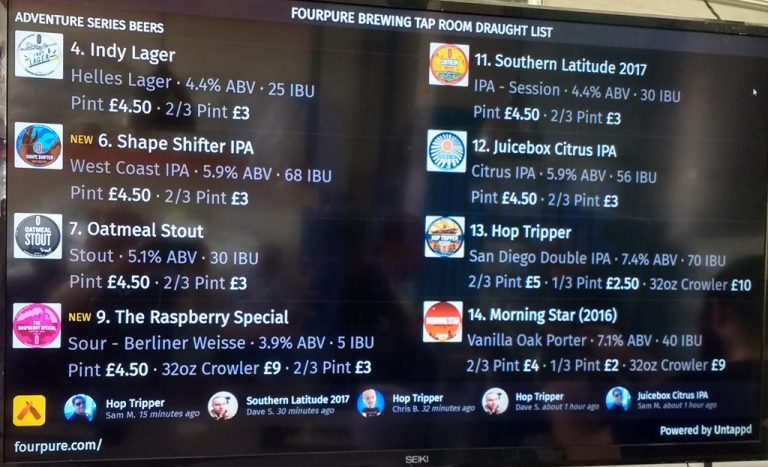 Future Dates
The UK VMUG "UserCon is back in Birmingham on 16th November 2017, and the next London date is 18 January 2018. Both events are always on the lookout for new speakers too- particularly from the community. Details and a sign-up form can be found here- tinyurl.com/VMUG-CFP.