VMworld Europe 2015 Day 2
Here's my five highlights (each) of some of the sessions I attended today (Tuesday) at VMworld Europe. Full videos of most of the sessions will be online shortly, but this is a taster.
General Session
VMworld is not just about VMware, it's an Industry-wide event
Yesterday's Dell EMC announcement does not mean a lot of changes for VMware, and they "Will continue to partner with the vast ecosystem"
The Unified Hybrid Cloud was a theme that cut through all the speakers, the ability to migrate live VMs from on-premises to off-premises (and not just vCloud Air, even Microsoft Azure) and view all the clouds as a big collection of resources for your applications. Applications have ubiquitous access to the environment.
Integrating container based development into the VMware ecosystem through Photon OS and the Photon Platform- without disrupting how the Devs work.
Build out a Software Defined Data Centre (SDDC), for example by using EVO-RACK designs and then it can be carved up into private cloud instances, optimised "Workload Domains"- for example for VDI, IaaS etc.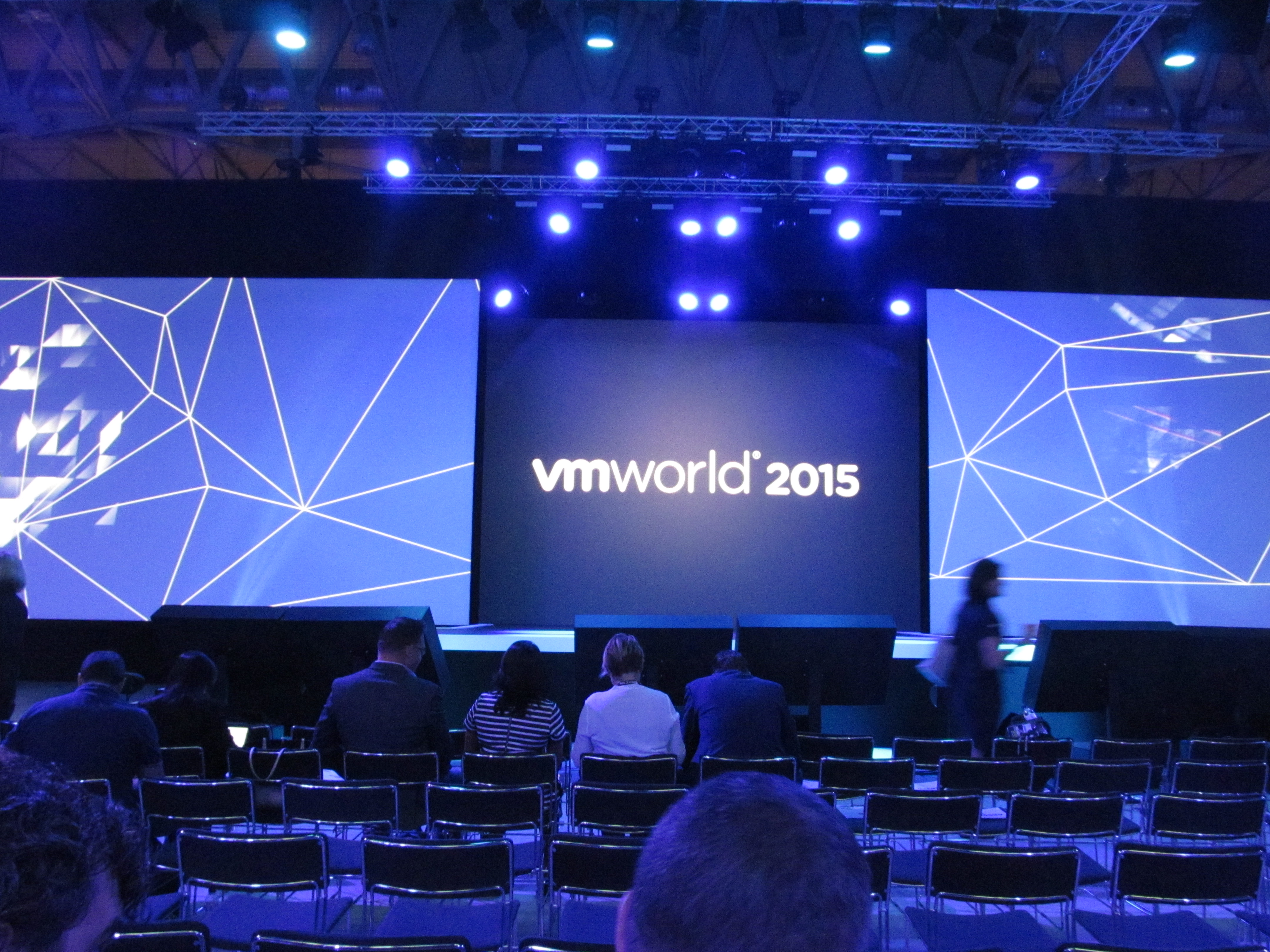 STO4572 Conducting a Successful Virtual SAN Proof of Concept
Test. Test. Test. When you get your POC up and running, pull cables, pull disks (and wait 61 minutes), make sure the system is right. Check 1 thing at a time though.
It's recommended that you have a minimum of three uniformly configured hosts, but four is better- with 3 the maximum tolerated failure is 1 server, so if a host is lost or down for maintenance the whole system enters a risk state.
Use the Health Check tools that come included with vSphere 6 Update 1, and use the proactive tests before going into production.
Make sure you've worked out your procedures, what to do when a disk fails, what to do when the system needs scaling etc
If you have an existing infrastructure to migrate, use the design and sizing planning tool to analyse it and get a recommendation on VSAN design and size.
STO5877 What's new in Virtual SAN
As of 6.1, released a month ago at VMworld US, you can have a 2-node cluster for Remote Office/Branch Office situations
Two types, hybrid (SSD+HDD) and All Flash. In Hybrid the writes go to the SSD caching tier, simultaneously to multiple nodes and cold data is offboarded to the capacity tier. In All Flash, reads go direct to the capacity tier.
You can do it on a 1GB network, but 10GB is better
VSAN is great for VDI solutions as you can predictably scale based on the user count.
Stretched cluster allows for an active-active pair of sites up to 100km apart (<5ms latency and >10Gbps required)
NET5541 Introduction to VMware NSX
Network Virtualisation is key to the SDDC Approach
The physical network hardware doesn't go away, but it does become a resource that NSX sits on top of and consumes
The security and network configuration of a VM- the firewall, VLAN, load balancing etc stays with the VM, even when it is migrated between physical hosts
Network packets are encapsulated before being transmitted across the physical network.
It's possible to spin up an entire dev/test network using the same IP addresses as production without the two conflicting with each other.