VMworld Europe 2015 Day 3
Here's my five highlights (each) of some of the sessions I attended on the Wednesday at VMworld Europe 2015. Full videos of most of the sessions will be online shortly, but this is a taster.
There was so much info that I struggled to get it down to five points, so I'd definitely recommend watching the replay if you have time and anything here perks your interest.
General Session
There's a growing push to achieve both Consumer Simplicity and Enterprise Security
VMware is now the leader in the VDI space according to IDC
NSX provides the ability for every individual VM to be firewalled, isolated, and segmented
Today a third of web traffic is from mobile devices and by the end of the decade half the planet will have a persistent internet connection.
Innovate like a startup, deliver like an enterprise - Pat Gelsinger, CEO VMware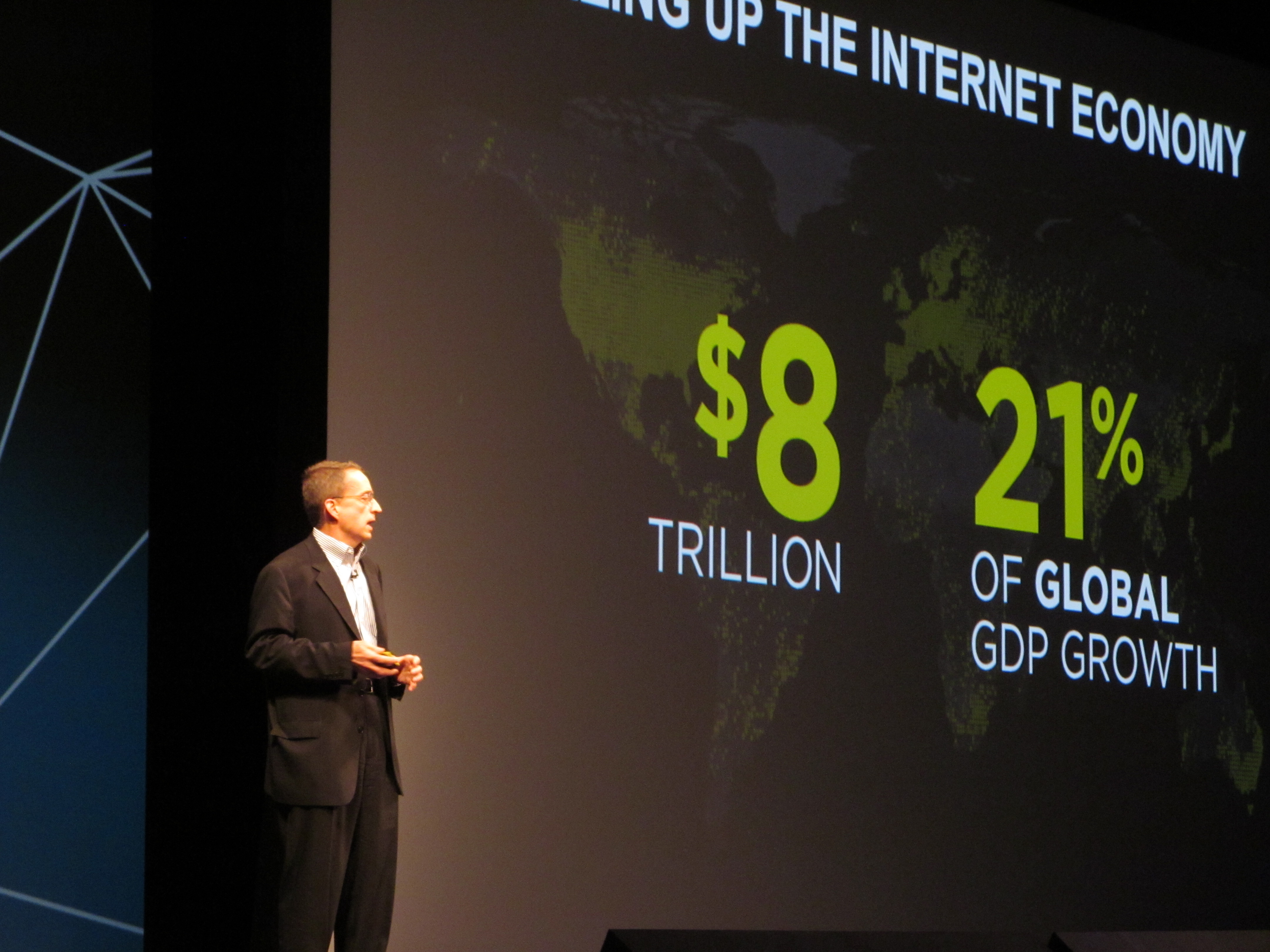 STO5571 What's New In Virtual Volumes
Virtual Volumes look to address 3 Challenges in Storage- Silo's, Rigid Infrastructure, and Complex Provisioning Processes.
Volumes are provisioned on a per-VM basis based on a Storage Policy, no manual LUN creation and no shared datastores.
This is included in vSphere, no additional licensing cost.
Uses traditional storage (e.g. iSCSI) and talks directly to the storage. Virtual Disks are represented natively on the array.
Benefits include speed (per VM performance), cost and capacity (no LUN overhead, less overprovisioning).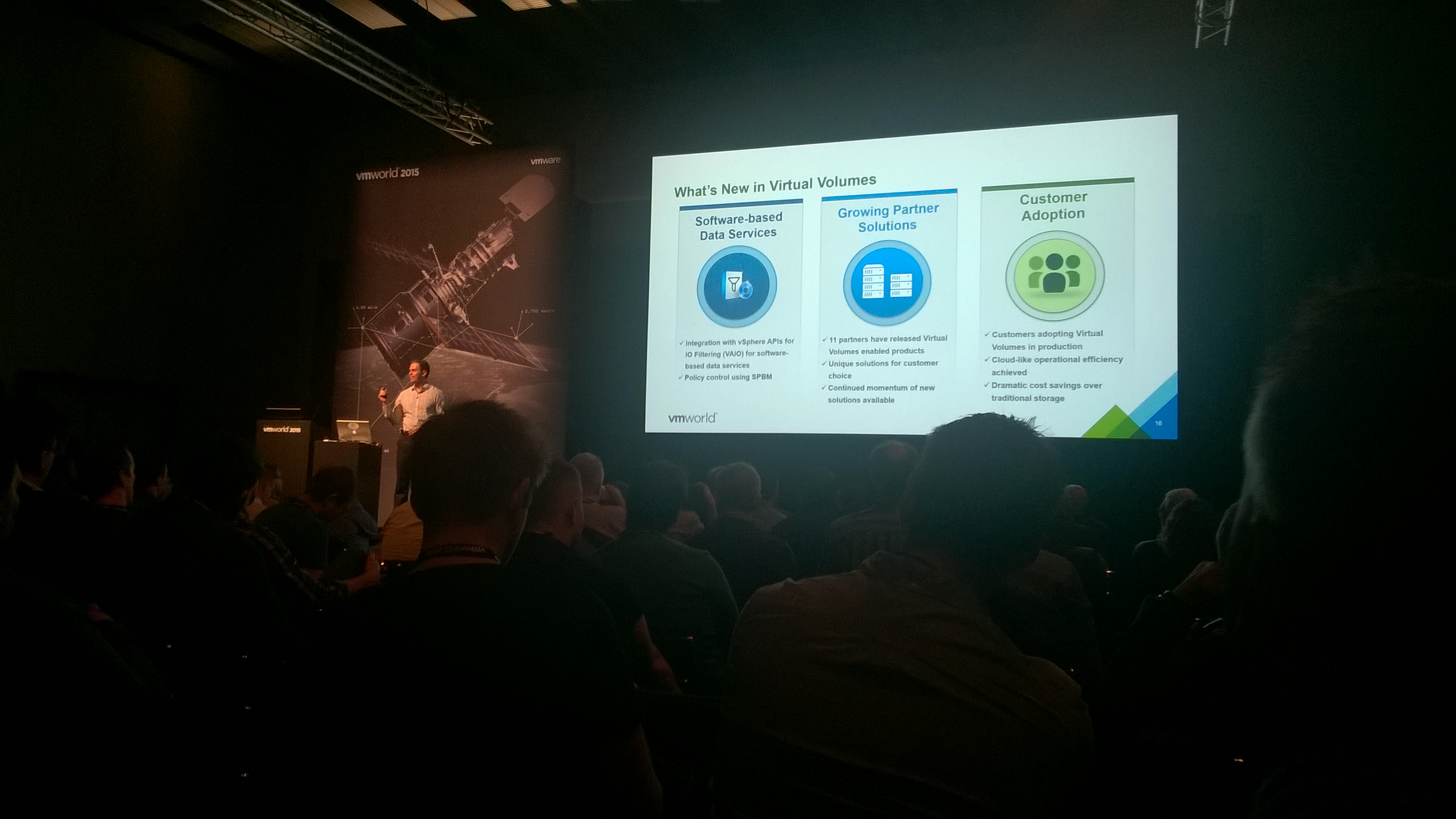 OPT5361 Best Practice Approaches to Transformation with the SDDC
To become a proper Service Provider, IT needs to be able to offer SLA's
A common problem seen in IT is operational practices are lacking, incomplete, or based on legacy IT.
Transformation should not be just from the technology perspective, but SDDC can be the enabler.
Sequential Processes need to become iterative. Start with something small that works and build on it.
Individual Work-streams should be integrated- silo'd IT must become collaborative to succeed.

EUC4517 VMware Workspace Environment Management
This is all about enabling Business Mobility with Horizon Desktop, Airwatch Mobile, and Identity Manager
Provision apps via Remote Desktop Services, Virtual Desktops, or Packaged ThinApps
On a single desktop the experience can be unique for each user based on login, not just in the background and profile but also in the available applications
Users can be given a writable volume, enabling them to install their own apps without infringing on other users of the service.
Use contextual policies to give a different user experience not just on credentials but also based on things like the client OS, location, client IP range etc.
INF5211 Automating Everything with PowerCLI Deep Dive
PowerCLI 6.0 R2 is now released with over 500 cmdlets, but support back to ESX 5.0U3
"The best script you'll ever write is one you've stolen"- don't reinvent the wheel if there is already code you can use or build on out there on the web.
New cmdlets include Get-VMHostHardware and Get-VMHostPCIDevice - great for getting a fuller report on the state of your infrastructure
Integration now in place for vCloud AIR, vRealize OpManager and VASA/NFS/VAIO storage
Check out the websites of the speakers Alan Renouf, Luc Dekens, and the PowerCLI blog for more info