VMworld Europe 2015
This October I'm off to Spain for my first VMworld experience at VMworld Europe 2015. This is an awesome opportunity, VMware's annual conference covering the virtual world is one of the biggest cloud and virtualisation events in Europe.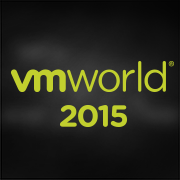 Although bad timing between the US event, my work calendar, and my wallet meant I missed out on an offered "official blogger" spot in San Francisco, that disappointment was turned into jubilation when I got the go-ahead for a regular pass to the European leg. I'm still planning to write up my highlights from the Barcelona week on this site and I'm sure they'll be some tweeting going on too. I usually take copious notes at conferences, not only so that I can remember things myself, but also so I can disseminate information back at the office. This blog provides a bit of focus to those sprawling OneNote pages and hopefully someone out there will find it useful too!
So, what can you expect from these posts? Well, content at this conference is arranged down 5 tracks- "Software Defined Data Centre", "End User Computing", "Hybrid Cloud", "Cloud Native Applications", and "Technology Deep Dives & Futures". Whilst I expect my primary focus will be on the SDDC track (with a spot of End User Computing thrown in) as that's my day-to-day, I'm going to make sure I pick up some sessions from the others. Events such as this are ideal for not only developing that focussed knowledge, but also getting more appreciation and detail of the wider ecosystem- and there's some great stuff out there.
My work on picking those sessions has already started using the online Session Builder and Content Catalogue. Some sessions are already filled up so sorting out my timetable is vital even this far in advance. I'm also filling up my reading (and watching) list- I believe pre-conference learning is vital to ensure that I get the most from the few days of the event.
So, six weeks to go till the big event- see you there?