Last Day of VMworld Europe
And to wrap up the daily summaries, here's my top-five takeaways from the sessions I attended on the Thursday of VMworld Europe 2015.
As with the other days, there's a lot, lot more to all of these sessions so if anything here looks interesting I'd recommend looking up the session recordings.
EUC5052 Beyond the Marketing: Horizon 6 Technical Deep Dive
Horizon 6.2 is now out, and for a dot-release this has a lot of new features
Use View Composer to provision VMs with linked clones. This uses less disk space, which is very important when working with premium SSDs
Hosted RDS applications can now be 3D accelerated as well as the Horizon VDI desktops.
There's now 4K multi-monitor support for Windows 7 Virtual Desktops (with Aero disabled)
Check out the VMware End-User Computing YouTube Channel.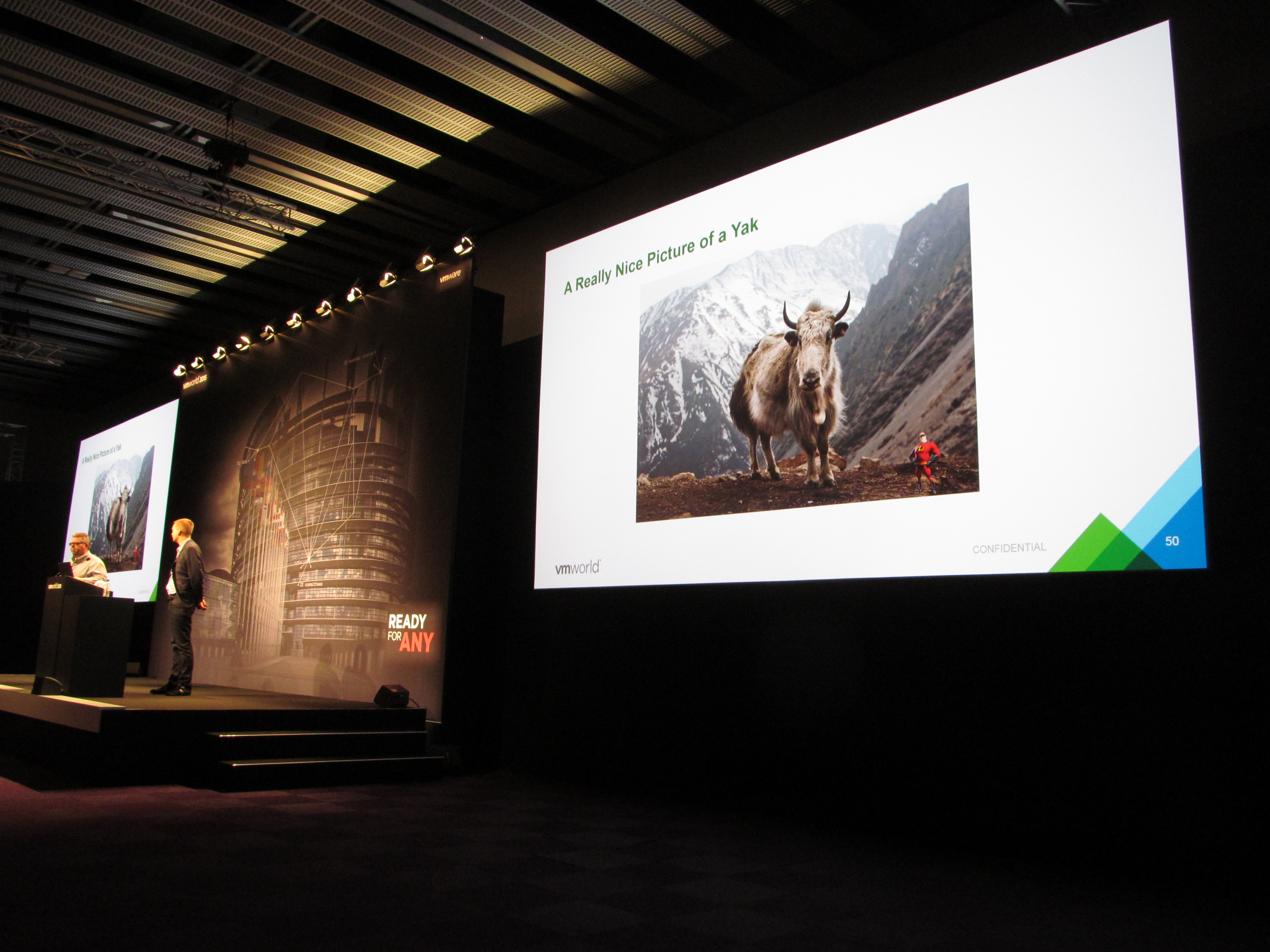 STO4820 Virtual SAN Hardware Guidance and Sizing
In the 18 months since VSAN version 1 went GA it has accumulated over 2000 customers.
VSAN Ready Nodes are pre-validated, certified OEM platforms with vSphere and Virtual SAN. They can be dropped into your environment giving predictable performance and scale.
EVO-Rail is still there though, providing the less flexible "appliance" route to hyperconvergence.
Some Ready Nodes are available preconfigured with FIPS compliant encryption or self-encrypting drives.
A Virtual SAN assessment tool is available (although it seems to be for sales and partners only?) which runs for 7 days on an existing workload and predicts what the VSAN should look like. It answers the question How cache friendly is my workload?
STO5022 vSphere Replication
vSphere Replication is per-VM Hypervisor based replication with potential for data protection and data recovery tasks.
It's FREE. (Included with Essentials Plus and higher SKUs).
Now offers end-to-end Network compression to reduce bandwidth requirements.
New to the latest version is Linux File-system quiescing (previously only available on Windows VMs).
Best Practise Tip- set the RPO as high as possible. Whilst you can wind it down to 5 minutes (on VSAN platforms, otherwise 15 minutes) if this isn't necessary in the environment make it longer. Just because you can doesn't mean you necessarily should.
INF5803 Deploy Hundreds on VMs Instantly via Forking
The big use case for this is VDI- desktops can be provisioned using a Just-In-Time model rather than setting up hundreds in advance.
It works using an Instant Clone- copy instantly and bring up fast. The disk and memory of the "parent" are shared by the Child VMs
Because the memory is shared, when the child is Powered-On it comes up really fast, it's already booted in the Parent before the snapshot.
There's a Fling to enable PowerCLI control over this
I think the term "forking" was only chosen so lots of Forking jokes could be made.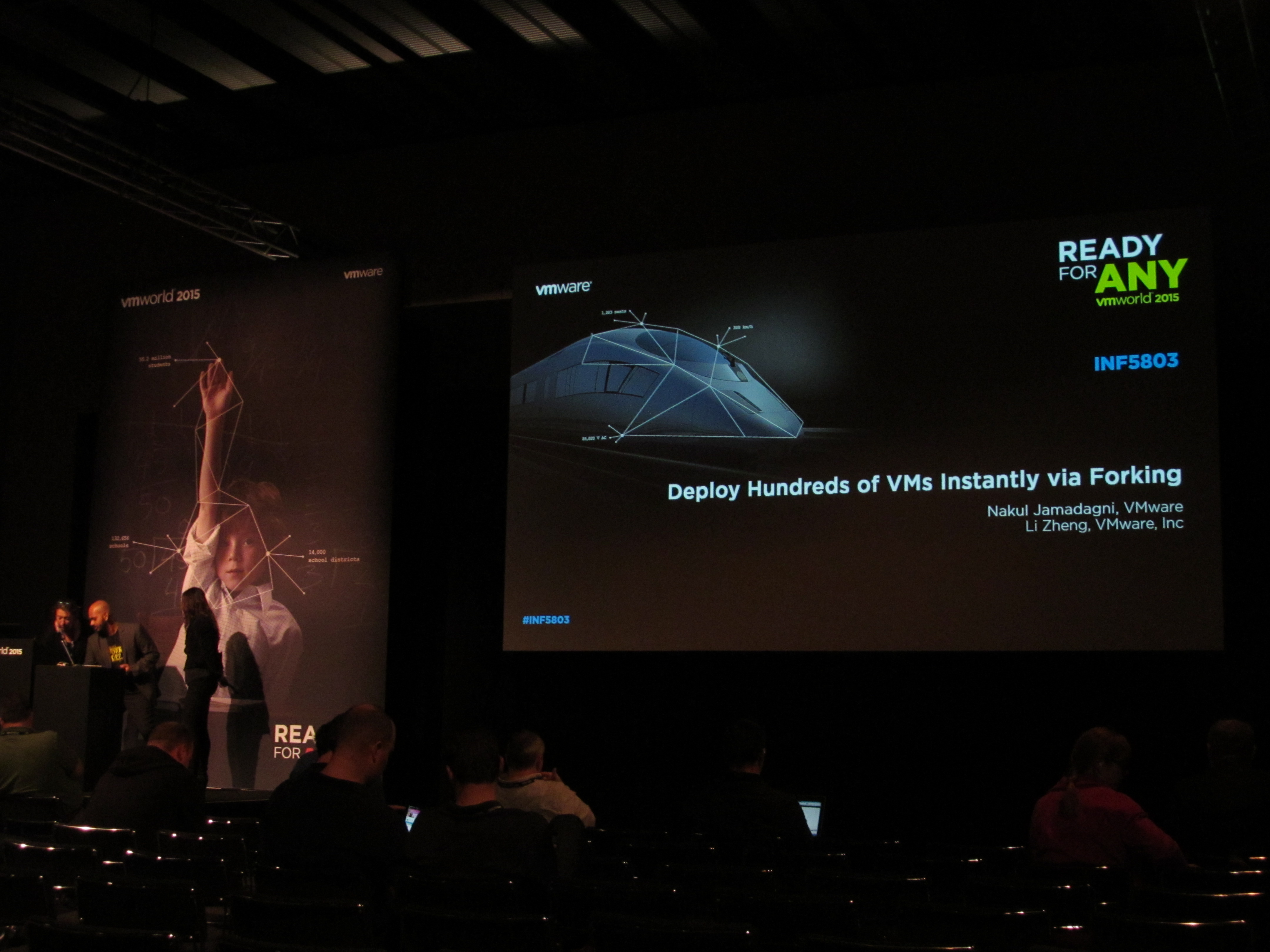 And with that, it's Adios Barcelona, I'm no longer a New-V.
Thanks #VMworld, it's been a blast. Now distance vMotioning myself back to my primary datacentre.

— Chris Bradshaw (@aldershotchris) October 15, 2015