VMworld Europe 2016 Day 1
Monday is always a quieter day at VMworld Europe; the Keynotes kick the event off fully tomorrow and most of the sessions on Monday are reserved for Partners and TAM clients. However, there's still plenty going on for us regular attendees.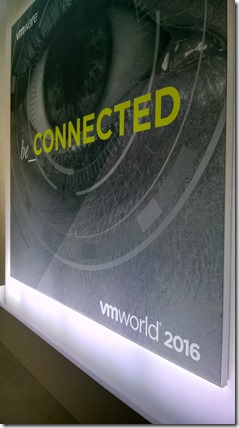 Sunday night once again saw vRockstar provide an "unofficial" opening to the event. Thanks to the team and sponsors (Rubrik, Nutanix, Veeam, and the rest) for putting the event on, it was great once again to see faces old and new- several who I hadn't seen in person for a whole year.
Back over at Fira Grand Via, my Monday agenda featured a couple of sessions, plus the opportunity to explore the Hang Space and Hands-On-Labs area. Here's a quick run down of some of the content, in all of my posts this week I'm planning on giving the highlights, and linking into deeper-dive pages (or session videos where available) so you can have a closer look if something piques your interest.
Hands-on Lab: SPL-1703-SDC-1: VMware NSX Feature Tour
I worked through the first couple of modules of this, and intend to come back to look at the rest after the event is over. It's aimed at people looking at NSX and starting a deployment from scratch. The first module was a click-through interactive slideshow of a basic NSX deployment, getting the components installed on a virtual infrastructure. This was extended in the second module where an existing deployment was used to work through adding a logical switch, connecting up some workloads, and checking connectivity. I'd recommend having a look if you have an interest in NSX and aren't sure where to start. (To find the lab, visit http://labs.hol.vmware.com/HOL/catalogs/catalog/123 and search for "HOL-1703-SDC-1")
Virtual Networking: Moving from Hype to Reality with Deep Traffic Analytics [MGT8486-QT]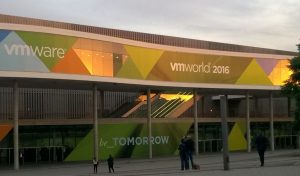 Staying on the NSX theme, this was a quick-talk format session which formed a useful introduction both on a technical level but also helped me warm up to the more intense sessions coming later in the week. A half-hour long version of an hour-long presentation it showed how important analytics is to making sure a virtual network is correctly configured and traffic is running as it should.
Hands-on Introduction to VMware Cloud Foundation [ELW-1799-FEL-1]
Cloud Foundation was announced at VMworld US in August (plus an announcement of an AWS partnership last week) and this was an ideal opportunity to dive in and get acquainted with some of the new technology through a Hands-On-Lab, with the added benefit of a knowledgeable guide to take the group through it. The product "integrates vSphere, VSAN, and NSX into a single unified stack" that can be run both in a private cloud on-premises but also on a public cloud provider – or both through a elastic hybrid cloud model.
This lab skips the initial setup of the Cloud Foundation and dives straight in with a guided walkthrough of the user interface followed by a practical look at creating and destroying work domains- essentially the independent vSphere clusters carved from the stack and given to a particular task (VDI, generic compute, management etc). A simulated version of this lab is available here – http://labs.hol.vmware.com/HOL/catalogs/lab/2715 .
Roll on tomorrow, with the "General Session" keynote kicking off the day at 9am. I'm expecting some big announcements there so it should be good.