VMworld Europe 2016 Day 3
Wednesday morning and VMworld continues…
Here's a look at my sessions from another day in Barcelona.
General Session
The big announcements of Day 2 gave way to some more detail in the Day 3 Keynote, kicked off by Sanjay Poonen focusing on the digital transformation happening in the EUC world. VMware has 66,000 EUC customers and is promoting an any-app, any-device strategy through the Workspace One platform. Today 50% of business apps are web based, 40% are Windows Client-Server, and Mobile picks up the remainder. We saw a demo of how VMware use workspace one internally to provide access to all these services through one portal.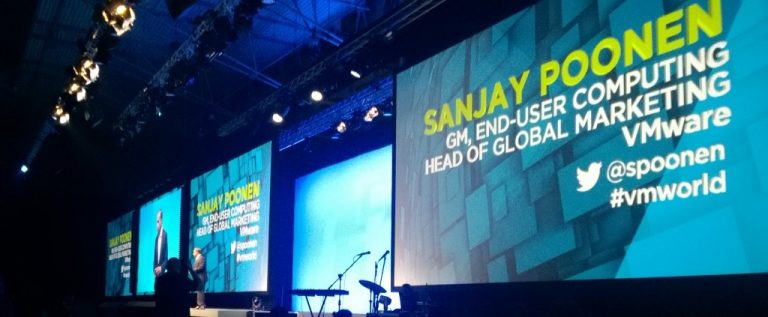 Sanjay was followed on stage by Ray O'Farrell who gave us further detail about the announcements in the SDDC. The vSphere 6.5 announcement was of course at the forefront, with Ray pointing out the advances that made the interface six times faster than 5.5 and gave a demo using PowerCLI which showed the realtime response of the new HTML5 client. He ran through a demo of the new VM encryption facilities in 6.5 and covered some of the advances in vRealize automation- including new support for containers.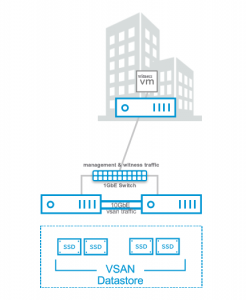 Next up was Yanbing Li to talk about vSAN (lower case v, upper case SAN) which also has some advantages in the 6.5 release. First up is Direct-Connect options for 2-node deployments (think remote office/ branch office installs or setups requiring strict isolation of data). In this model the management and witness traffic is split out from the data traffic allowing for the two vSAN nodes to be linked directly together using Ethernet cables.
Secondly, vSAN 6.5 enables iSCSI support, so the storage infrastructure can now be used as a target for physical workloads. Yanbing also talked about the ongoing vSAN beta- future versions of the product are likely to offer data at-rest encryption and nested fault domains. vSAN has passed 5000 customers in 2.5 years, and now VMware hopes more affordable licensing with the offer of all-flash support on that Standard SKU.
Networking and Security was the next topic with Rajiv Ramaswami with the focus on NSX which is now giving 1700 NSX customers Micro-segmentation and Distributed Load Balancing. From my point of view NSX is continuing to gain weight as the product underpinning VMware's SDDC- most of the presentations this week mentioned NSX in some form – and I expect this market to grow as the Private/Public/Hybrid cloud model expands.
Kit Colbert brought the Wednesday Keynote to a close with insights into container hosting and management VMware style using the Photon Platform. As with everything else here Photon is continuing to evolve and will be offering Kubernetes-as-a-service in Q4 this year. The Photon Controller and Photon OS are both open source- available for download from Github.
If you want to watch the full session yourself, check out the video here:
Day 2 Operations: A vCenter Server Administrator's Diary [INF9128]
Adam Eckerle and Emad Younis gave this talk, catching up on what's new in vCenter and how to keep it running smoothly after the install process has finished. I picked up some great takeaways here, and I've distilled my pages of notes to come up with the following highlights:
There are 5 web based clients for the vSphere environment in 6.5 :  vCenter Client and Web Client, the Appliance Manager UI (formerly VAMI) and so on. There is no support for the legacy Windows C# client.
The vCenter appliance upgrade preserves the identity of the old Windows-based vCenter so all connected applications and plugins should continue to operate. If the upgrade needs to be rolled back it's just a case of turning off and removing the new VCSA and then powering on the old Windows Server and rejoining it to the domain (although any configuration changes made under the VCSA's stewardship would then be lost) . Upgrades are possible from Windows vCenter 5.5 or 6.0
We were shown a demo of extending the disk in the vCenter appliance using LVM autogrow. Also, as of 6.5, the appliance will warn when the disk reaches 80% capacity and will auto-shutdown at 95% to prevent corruption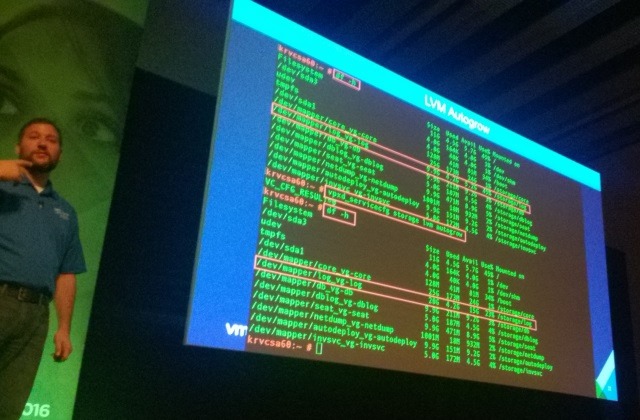 *The second half of the session included a whiteboarded overview of PSC migrations and topology. The linear ring topology was highlighted as being preferable over hub/spoke (limited in failover) and full mesh(too complicated) in larger (and expandable) deployments. Check out the poster for more details on choosing a PSC topology.
vBrownBag "The Amazing World of IT in Higher Education"
This time it was my turn to give a presentation, and in this quick ten minute talk at the vBrownBag stage I covered some of the unusual practices that an IT Pro might experience if dropped into a University environment and how various forms virtualisation can be used to save the day. If you want some more details check out my post and video link here.