VMworld 2017 Europe Tuesday Keynote
Even when VMworld US had been weeks in advance of the European event there had been a lot in common between the keynotes so with the two legs being just days apart this year more similarity was inevitable. My write-ups of the VMworld 2017 US keynotes can be found elsewhere on this blog, so I'll be trying to avoid too much duplication.
Jean-Pierre Brulard kicked off the proceedings touching on the tragic events that occurred in Barcelona only weeks ago before welcoming the eleven thousand visitors to VMworld who had travelled from 95 countries across the globe.
More than 11k people at #vmworld europe, new record!

— Duncan Epping (@DuncanYB) September 12, 2017
Jean-Pierre was followed by VMware CEO Pat Gelsinger again addressing the crowd on where he sees the world of technology. He talked of how science fiction is becoming science fact, only 31 years ago we watched a movie where Sigourney Weaver man-handled heavy crates and extra-terrestrials with an exo-skeleton suit and now workers in Korean shipyards are doing this every day (hopefully minus the xenomorphs).

After this the Keynote dived straight into the product portfolio- VMware Integrated OpenStack 4.0, Workspace One, and then VMware HCX Technology, a new announcement today, which involves connecting old on-premises environments to new ones either also on-premises or in the public cloud and then enabling zero downtime migration of services.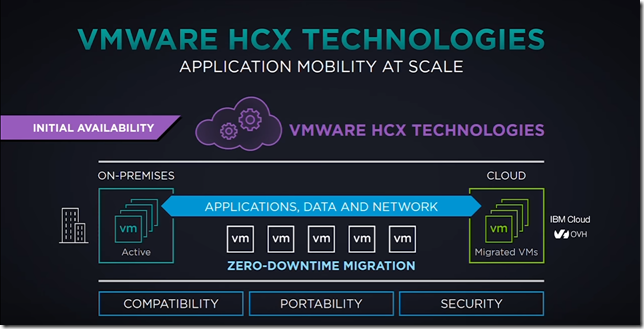 IBM and Dell have formed a partnership through VMware to encourage cloud adoption. There was some surprise at seeing the two logos next to each other on the screen as Dell and IBM have traditionally been long term rivals, but time has moved on, Lenovo bought up the desktop end of IBM 12 years ago now so the client-device competition which formed a large part of that competition has been pushed into history.
VMware Cloud Verified is a new certification plan for cloud partners. CenturyLink, Fujitsu, IBM Cloud, OVH, and Rackspace are the first five onboard but many of the 4400 VMware Cloud Provider Partners are expected to follow. Personally I think VMware's positioning and marketing of their cloud offering is still very fluid- vCloud Air was almost an internal product and a partnership idea, and then the product was sold off, plus we have Cloud Foundation "VMware On AWS" and now this. Hopefully things will settle down and the potential confusion will reduce as the year progresses beyond conference season but only time will tell.
We were treated to an excellent demo of just what can be done with technology when Alan Renouf came to the stage with a vSphere VR demo (similar to the one featured in session IPC7001KU in the US event). Pat Gelsinger donned a VR headset and through some code produced at a VMware internal hackathon he was able to move and remove virtual machines and even do a live migration of a VM from on premises to VMware on AWS by virtually throwing the object at a cloud in the viewscreen. Chatting with others after the talk, there was a lot of excitement about this. No-one is really expecting that sysadmins are going to be sat with headsets on moving VMs from site to site, but there's definitely potential as a demo or tool (Alan is releasing the code to github) to help explain technologies to virtualisation laymen- or expand on the troubleshooting touched on in the presentation. AI and Machine Learning may be catching up, but the human eye is still a great tool for spotting patterns and a graphical rather than textual representation of the environment is much more suitable for that process.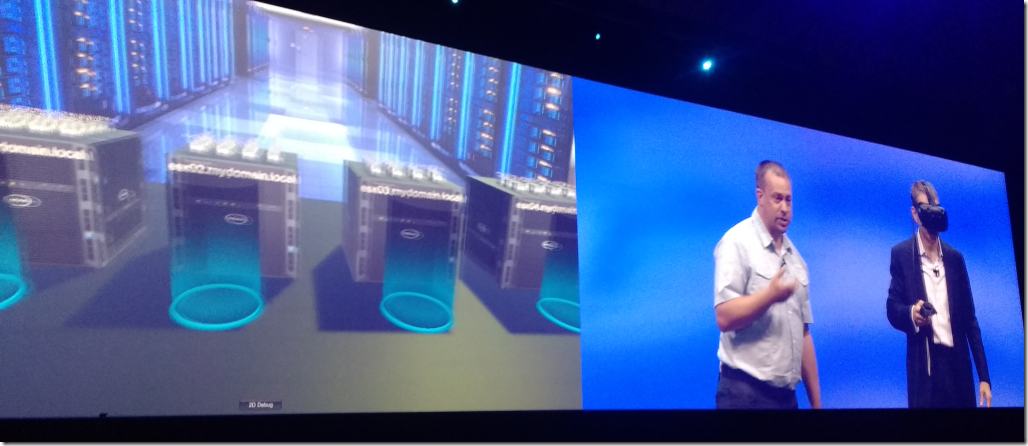 The demo was followed up with some customer stories- Sanjay Poonen sitting down with representatives from the customer base but this time with an EMEA bias compared to the Vegas event two weeks ago- Liberty Global, Swisscom, Societe General, and the East African Farmers Federation took to the stage to talk about subjects from public cloud adoption to using vRealize Suite to promote integration and improve performance following acquisitions.
The security piece towards the end of the presentation was again similar to the US talk but including mention of the incoming GDPR which will greatly impact the Europeans in the audience. Pat covered off VMware's new AppDefense platform which can detect deviations from correct behaviour in real time and then act upon them, as well as NSX- again referred to as the "Secret Sauce" of a good infrastructure and "probably more important to the future than vSphere has been to the past".
#VMworld @PGelsinger touching on #GDPR in the security segment of his Keynote. #InfoSec pic.twitter.com/eNUs9wfwbe

— Chris Bradshaw (@aldershotchris) September 12, 2017
All in all an entertaining and interesting keynote and a great start to the rest of the event. Full playback of the keynote is now available through YouTube so you can judge for yourself.