VMworld US 2017 Monday Keynote Highlights
Monday 28th August 2017 and VMworld has officially kicked off and Monday morning in Las Vegas saw the first keynote of the US event.
Whilst I'm waiting patiently for my trip to the European leg in two weeks time I was able to keep track as the Keynotes are live streamed for remote viewers- here's my highlights from this session.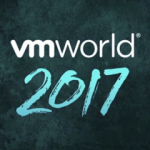 The show started with Pat Gelsinger, CEO of VMware, giving his overview of the state of technology and insights into where VMware has travelled and where it's going. As always the Keynote gave a brief introduction to what's new, with the breakout sessions during the week there to fill in the detail. Throughout the 90 minutes, Pat was supported by Sanjay Poonen who was interviewing customers (Capital One, Medtronic, Sysco, American Red Cross) to give a bit of background about how the products are being used out in the wild.
Whilst we're not necessarily expecting any huge releases to the traditional core product lines this year (vSphere 6.5 is less than a year old, vSAN 6.6 only a couple of months etc.) there are, as always, some launches around the show.
VMware on AWS, announced during VMworld season last year, is now becoming available. Andy Jassy, the CEO of AWS, was onstage with Pat. A lot of the talk here is around the consistency this pairing offers- customers can use their existing tools and skillsets from their on-premises world to take those existing applications into the public cloud. Pat also announced Cloud Foundation 2.2 was now available including the first seven "VMware Cloud Services"
Connected to that, NSX-T 2.0 was announced this morning- this is a version of the network virtualisation platform which supports multi-cloud and multi-hypervisor environments, primarily VMs and containers shifting between on-premises and VMware-on-AWS locations. On the NSX line it's important to note that Pat described NSX as VMware's "secret sauce", comparing it's importance to that of vSphere in the past.
@PGelsinger "What vsphere was for the first decades of VMW, NSX could the same for the next decade " #VMworld2017 pic.twitter.com/C3igqX7gPh

— Ray O 'Farrell (@ray_ofarrell) August 28, 2017
VMware AppDefense is a new product to the portfolio which monitors applications running on a virtual environment to provide real time defences and responses to potentially malicious activity. The announcement includes mention of integration with products from partners such as IBM (featured on stage today), RSA, SecureWorks, and Puppet. In my opinion this is encouraging news that even with an expanding portfolio VMware is still very much focussed on providing products that sit within an ecosystem rather than attempting the one-vendor-to-rule-them-all approach.
This is just a few snippets from the 90 minute presentation, the full video will shortly be available online here:
https://www.vmworld.com/en/us/video/general-sessions.html
Update: Monday Session is now online here:
Read about Tuesday's session here