VMworld 2018 US: VIN2992BU- vSphere Client Roadmap
This session at VMworld US 2018 covered the past, present, and some of the future of the VMware vSphere Client. I caught up with the session via the online recording.
vSphere has moved from having a Windows-only desktop client (known as the "C#" or "fat" client), through a flash-based client to the new modern HTML5 client. The fat client is no longer supported by the current vSphere platforms and the Flash client will be deprecated with the "next numbered release" of vSphere- i.e. that version will be the last one to ship with the Flash client and from then on the HTML5 client will be the interface.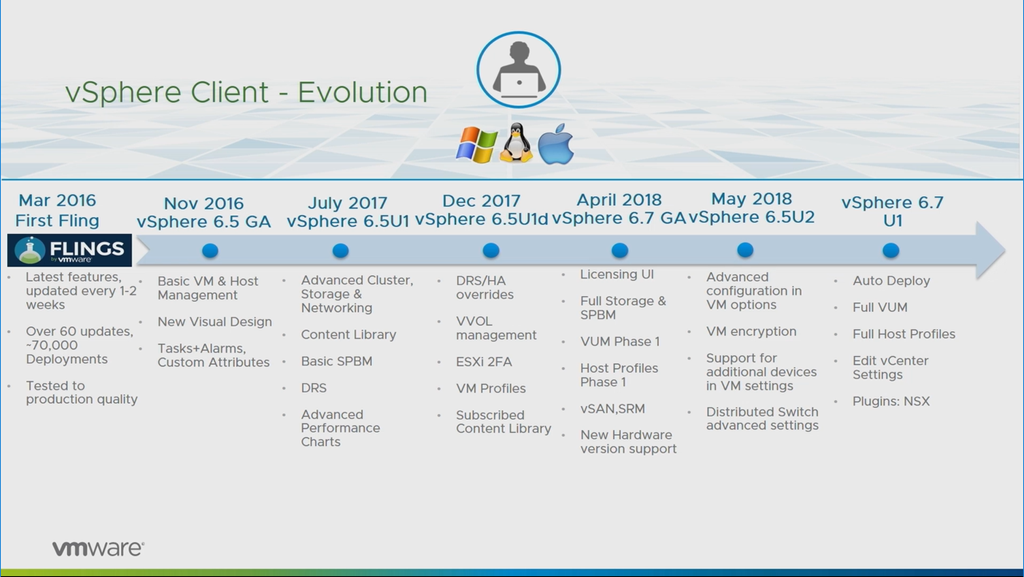 The HTML5 client has been around since appearing as a "fling" back in March 2016, becoming part of the supported release in November of that year with vSphere 6.5, and has picked up additional features with each subsequent release. With the new vSphere 6.7 Update 1 release this is now fully functional.
New features in 6.5U1 to round off this functionality include the integration of VMware Update Manager (VUM) and Platform Services Controller (PSC) management. There's improvements around the creation workflow for alarm definitions, and for the implementation of vCenter High Availability (VCHA).
Also new is improvements to the search, including filtering. The presenters discussed  how the traditional tree-view used in the client could make it difficult to locate one of 35,000 VMs and a more targeted search was a better approach. There wasn't a huge amount of talk prospective future developments in the clients in this talk but one of the items mentioned was the interest in integrating natural language searching in a future release.
The HTML5 client fling is still available, and can be used by vCenters running versions 6.0 or 6.5, but not 6.7. At the date the slides were made there had been 70,000 deployments of this fling and it had featured 70 update releases in the 2 years it has been available.
There was some information given about the feedback options in use- notably the use of the CEIP program to collect usage analytics from admins who have signed up to the scheme. This anonymised data is being used by VMware to drive future developments and prioritise features.
Around 30 minutes into the presentation the sound drifts off for about 5 minutes as there is a discussion with members of the audience. As a tip- always try and give the audience microphones or at least repeat their question for the recordings.
If you're watching the recording then stick around as the final section covered the modern plugin framework which allows 3rd party developers (your backup, storage vendors etc.) to produce JavaScript-based plugins for the HTML5 client. VMware is offering a certification for these plugins to ensure compliance and the new plugin architecture allows vendors to deploy new versions outside of vSphere's own release lifecycle.
If you want to watch the recording of this session to get more information it's available on the VMworld site: videos.vmworld.com