vSAN Scalable File Services
One of the new developments that caught my eye at VMworld this year was the introduction of file services to the VMware vSAN software-defined storage platform. vSAN already offers VMDK storage to vSphere and the ability to host iSCSI volumes, but this feature will allow NFS and SMB file-shares to be hosted directly on the cluster without the need for a separate Windows Server or NFS provider.
What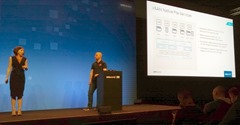 vSAN Scalable File Services is a layer that sits on top of vSAN to provide SMB, NFS (and others in future) file shares. It's comprised of a vSAN Distributed File System (vDFS) which provides the underlying scalable filesystem by aggregating vSAN objects, a Storage Services Platform which provides resilient file server end points, and a control plane for deployment and management.
File shares are created using the vCenter GUI or via API calls from an automation platform, and the demos at VMworld included all the functionality you'd expect with permissions, quotas and so on.
An interesting point is that all the file shares are integrated into the existing vSAN Storage Policy Based Management, and on a per-share basis. Therefore FTT, encryption,  thin provisioning, and so on can all be defined at a pretty granular level. So if only one of your file-shares has an encryption requirement that's just a case of setting the policy in a drop down list, or likewise if a particular file-share must be configured to be site-failure resilient across a stretched cluster.
Why
Why would you want to do this? Well, a couple of use cases immediately sprang to mind. Firstly, the small office/ remote office/ branch office scenario. A company wants to host both virtual machines and file services in a compact environment- currently the choice would be to have a NAS plus compute hosts, or possibly go hyper-converged but run a VM within this serving the file data from a VMDK. vSAN file services simplifies this by providing that NFS/SMB provision from within the hypervisor- and this also means that all the benefits of resilience, deduplication, compression, and encryption can be provided to the file services.
The second case was for a SAN replacement- a traditional SAN is basically an expandable cluster of x86 servers loaded with disks running some file+disk management software. vSAN is the same thing, but can also run VM workloads. It would be an interesting price/feature comparison exercise to compare the two methodologies.
When
This offering is currently in Public Beta – details at the bottom of this article. NFS 4.1 with AD Authentication is expected at release, with SMB, OpenLDAP, vSAN Data Protection and other functionality to follow. Obviously this is all subject to change as VMware are still at the Beta stage, and a release date has not yet been confirmed.
Further Information
HCI3041BE – VMworld Europe 2018 session: Introducing Scalable File Storage on vSAN with Native File Services (Video and Slides)
HCI3728KE - VMworld Europe 2018 session:  Innovating Beyond HCI: How VMware is Driving the Next Data Center Revolution (Video)
www.vmware.com/go/vsan-beta – Sign up for the Beta. Phase 2 includes the ability to test vSAN File Services in your own lab environment.