VMworld Europe 2019-Day 2 Keynote Highlights
The Wednesday General Session at VMworld Europe is usually where VMware puts the meat onto the bones of the Tuesday announcements and this year was no exception. Here's a quick rundown of my highlights.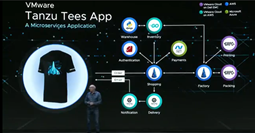 Executive VP Ray O'Farrell kicked off proceedings with a video of a near-future environment where a person is making use of futuristic apps, devices, and transport- a storyline which was then tied in to the new VMware announcements. Following on from the success of Elastic Sky Pizza in 2017, attendees were introduced to the latest (ficticious) company- Tanzu Tees – who must be opening a European branch following their success at VMworld US in August.
The Keynote was divided into four sections to follow this theme- "Build and Run", "Connect and Protect", "Manage" and "Experience". This split the hour into 10-15 minute sections and showed the breadth of todays' VMware profile.
Less than 7 minutes into the show and we're already diving into product demos, with Joe Baguely brought in to show an application being built with Spring Initializr to build out a framework for developers, deploying this to a Bitnami catalogue with Project Galleon and make it available in VMware Cloud Marketplace.
The second demo showed off the new Tanzu Mission Control managing Kubernetes clusters across vSphere, AWS, VMware Cloud, Azure, and Google Cloud- all on one screen. A key feature here was the ability to apply policies across all these different platforms from one consistent interface- no need to dive into 3, 4, or 5 different workflows, each with their own GUI, CLI, and API components to deal with.
A demo of Project Pacific followed this. I've heard lots of people say how much they appreciated these demonstrations and being able to see what the products actually look like as slide decks can only take you so far.
In this third demo we saw the vSphere Client we all know managing Kubernetes clusters alongside VMs and container pods- all natively within ESX. VMware are already using this technology in house- currently creating and destroying 800,000 containers weekly- a number which is growing.
Moving onto the "Connect and Protect" section Ray was joined onstage by Marcos Hernandez who had more demos. The first of these looked at the NSX Intelligence features- picking up risks, threats, and vulnerabilities which have been surfaced using the new Distributed IDS/IPS technology in NSX and then applying recommended firewall rules to remediate the faults.
Marcos's second demo looked at how Carbon Black Cloud Workload adds another layer to protecting the application- spotting known vulnerabilities, locations in the infrastructure where encryption wasn't implemented, The demo included a simulated hack on the Tanzu Tees application and showed how Carbon Black and AppDefense detected the intrusion attempt.
The "Manage" segment brought Purnima Padmanabhan to the stage. Wavefront was the first product up here, collecting metrics from the components of the Tanzu Tees apps and drilling down into individual microservices to diagnose performance problems- in this demo identifying a specific SQL query which was the root cause.
Project Magna was next up in the demonstrations- this uses AI and ML to optimise application performance- in this example by modifying cache size based on the current workload on the storage device.
CloudHealth was used by Tanzu Tees to analyse the usage of the components of the applications and recommend right-sizing of VMs and produce budget alerts to help proactively manage cloud spend.
The final section- "Experience" – was led by Shikha Mittal who continued the demo heavy theme by showing how Horizon Virtual Desktops sites can be created on both AWS and Azure clouds and use on-premises style images alongside the Microsoft Windows Virtual Desktops deployments of Windows 10.
VMware Workspace One was shown managing a variety of end user devices, and connecting to Carbon Black to spot anomalies in usual device behaviour, for example spotting malicious logins and potentially compromised endpoints. Again VMware uses this internally for their 60,000 endpoints across the globe.
The new CTO of VMware, Greg Lavender, closed out the presentations talking through some of the forward-looking activities of his office including using Bitfusion appliances to provide GPU resources across a network thus sharing a pool of GPU resources amongst a CPU-only ESX infrastructure.
In summary this was a session full of product demonstrations- definitely worth a watch or picking out the bits relevant to you. You can now tune into the full keynote (1 hour) on Youtube.