VMworld 2021 Registration is now open
VMworld is staying online in 2021, taking place on 5-7th October with the tagline "Imagine That".
General Pass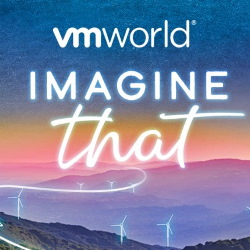 Registration opened 15th June 2021 for the event, with General Passes available free of charge. This pass includes the keynotes and regular breakout sessions. As with 2020, it's not going to be the same as being in Barcelona or San Francisco but there's still lots of learning opportunities here across the VMware product range and the surrounding ecosystem.
Content is being offered across three timezones (Americas, Asia-Pacific, EMEA) to give attendees the option to join when it suits them.
Tech+ Pass
As well as the free General Pass, VMware are selling a "Tech+ Pass" for $299. This enables attendees to take part in Meet the Experts sessions, Tech+ Tutorials with VMware technical instructors, Guided Hands-on-labs Workshops, and the opportunity to ask specific product sessions in 1:1 consultations with the Global Support team.
If you're undecided then you can sign up for the free General Pass and there's currently an opportunity to upgrade that to a Tech+ Pass later.
VMworld 2022 in-person
The VMworld site has dates up for in-person events returning in 2022, with VMworld US returning to San Francisco at the end of August and VMworld Europe hitting Barcelona in November.
Visit vmworld.com to register for the 2021 event.