VMworld 2021 Session Breakdown
The VMworld 2021 Content Catalog is online, so what is the focus of the sessions at this year's event?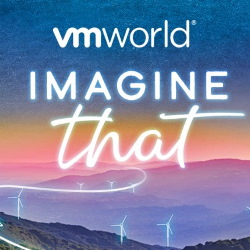 At time of writing there are about 900 sessions listed in the VMworld 2021 Content Catalog and they cover the breadth of the VMware product portfolio. In this post I'll be looking to gain insight into the company's (or at least the conference's) focus by comparing the number of sessions covering each product.
Tanzu
Unless you've been hiding from VMware news in a vCave for the past few years you'll have heard of their modern-app platform Tanzu which runs Kubernetes, containers, and microservices based applications. 242 sessions, over 26% of the Content Catalog, is devoted to Tanzu products indicating VMware is continuing a major push in this direction.
The Hypervisor Home
VMware's historic success was built with the hypervisor- that grew over the years into the ESXi, vCenter, and vSphere we know today. VMworld 2021 has 234 sessions that are categoried in these product lines, just over a quarter of the catalogue, showing that the core of vSphere is still a notable topic. 14 of the sessions explicitly mention ESXi in their abstract so there's still an appetite for working with the nuts and bolts of the architecture even though the hypervisor itself is such a background commodity these days that other technologies are built upon.
NSX Secret Sauce
NSX - referred to in 2017 the 'Secret Sauce' of VMware's future is going from strength to strength with 224 sessions covering the various networking products in this collection. NSX ties many of these other products together- both VM and container, on-premises and in the cloud.
So with a quarter of the sessions on vSphere, a quarter on Tanzu, and a quarter on NSX, does the rest of the portfolio have to squabble over the remaining twenty-five percent? No- because a session can cover more than one product, and often will because of their interactions. So we continue to have popular topics as we work down the list.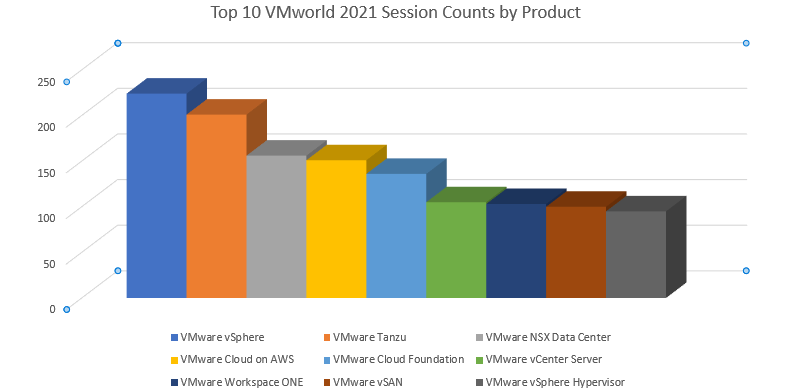 Cloud Foundation
158 sessions will discuss the VMware Cloud Foundation hybrid cloud platform. Unsurprising as the product supports both the traditional Virtual Machine and modern container-based applications.
Public Cloud
VMware made an important shift a few years ago in taking it's product out to the big public cloud providers- first AWS and then Microsoft Azure and Google Cloud Platform. There's a session breakdown here with VMware Cloud on AWS being a topic in 151 sessions, Azure VMware Solution in 82, and Google Cloud VMware Engine in 63. This aligns roughly to the comparative figures for global cloud spending with those "big 3" providers.
vRealize
The vRealize Suite is a wide range of products forming the Cloud Management Suite. 139 sessions at VMworld will feature these products with vRealize Automation and vRealize Operations being the two frontrunners in the category.
Workspace ONE
The 2020/21/… pandemic has meant a big shift in working practises for many organisations. Workspace ONE comes into it's own here for provisioning corporate applications on remote devices, so it's no surprise that there are 123 sessions at VMworld covering it.
vSAN
vSAN, VMware's software-defined storage solution, is key to not only many on-premises deployments but also Public Cloud infrastructure designs such as VMware on AWS. vSAN has been continuing to develop and is a topic of 100 sessions at the show.
---
Methodology
To tally these totals I've used the Product filters in the Content Catalog, using VMware's own categorisation rather than attempting to define my own based on my interpretation of 900 abstracts. It's worth noting however that these categories might not be 100% reliable. For example there's 14 sessions which are tagged as being about VMware vCenter Converter and reading the abstracts it's a little hard to see how some of the speakers are going to include that product in their presentations.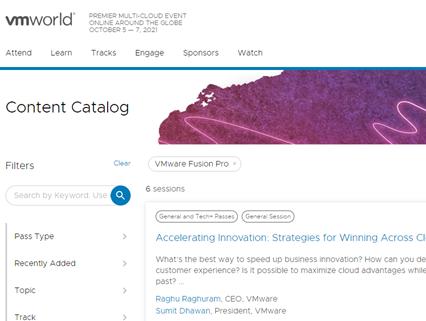 With these products I've made some obvious groupings, for example looking at Fusion, Workstation Pro, and Workstation Player together as "Desktop Hypervisors" or bunching the multiple NSX Product lines together as one.
These numbers were taken on the 24th/25th August 2021, so won't include any sessions added after this date. It's commonplace at conferences like VMworld to add sessions closer to the event (or even release them during the Keynote) as new products are announced. So if VMware release "Ultimate vDoohickey 1.0" on October 5th and announce 200 sessions on it, sorry, that won't be included in this post!
More Info