Cohesity Marketplace
During the recent #vRetreat event in London, Cohesity presented their latest release of DataPlatform – and with a launch happening the very weekend of the event, February 26 2019 this was timely presentation. This release included a number of new features- and when following up on the vRetreat event one which caught my attention is the Cohesity Marketplace.
The Marketplace is designed to allow third parties (plus your internal developers and Cohesity themselves) to release products that plug directly into the Cohesity framework- "bringing applications to the data, versus data to the applications". From what I have seen of previous integrations they have been focussed on automating the backup/recovery process- for example using ServiceNow to provide end-users with self-service restores. This marketplace however allows third party applications to interact with and process the data on the Secondary Storage directly, without it leaving the appliance (or the public cloud storage). I see this as an interesting development, and visiting the website today you can get an idea of how this is going to grow.
Already in the list are analytics providers such as Splunk and Antivirus/ Threat Protection providers such as SentinelOne and ClamAV. The potential here for not just data protection but also analysis and business intelligence operations is intriguing- all that old, dark, data that companies hold but don't make use of should be in this secondary storage and the ability to tap into that directly opens up many possibilities.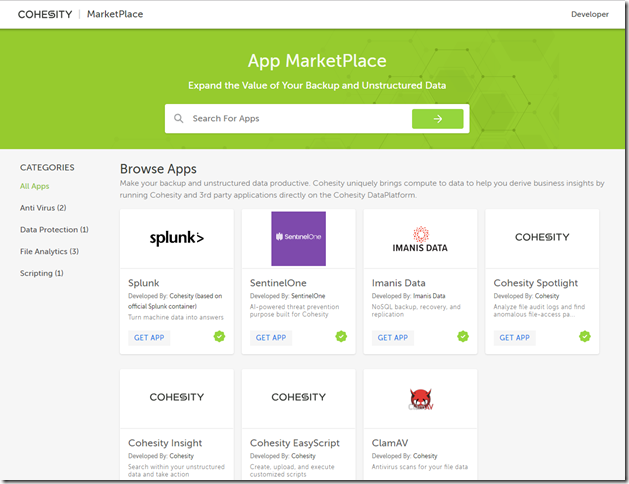 This all sits alongside a new Developer Portal and the existing REST API and PowerShell frameworks provided for the DataPlatform. Apps can be developed in-house but the big benefit I see is the third-party products being presented to admins to deploy- simplifying the traditional method of liaising with all the vendors in your environment separately to try and achieve a level of integration. And because the data is being processed within the Cohesity platform there's the benefits of additional security, less duplicated storage, reduced network costs, and potentially better performance because we're not spending time shifting data around to process it.
It's early days yet so there's only a handful of apps available (Mid March 2019), but it will be interesting to see how this develops and whether the work developing apps falls to Cohesity or will partners and third-party vendors take up the mantle.
For more information, check out this video from Cohesity.
Please read my standard Declaration/Disclaimer and before rushing out to buy anything bear in mind that this article is based on a discussion at a analyst session rather than a POC or production installation. I wasn't paid to write this article or offered any payment, although Cohesity did sponsor the lunch, T-shirt, and stadium tour at the event. Attendees were also given a pair of bright green socks and matching branded shoelaces so you should be able to spot them.