vRetreat February 2019- Secondary Storage with Cohesity
Last week I had the pleasure of attending the latest #vRetreat blogger event. This edition featured a day of presentations and labs from enterprise storage vendor Cohesity held at Chelsea Football Club in London. In my first blog post from the event I look at what Cohesity are doing to distinguish "Secondary Storage" from "Backup Storage".

There's a number of vendors on the market who can provide enterprises with a backup appliance and support for public cloud storage. Cohesity have looked at this and asked what other business operations can leverage this (comparatively) cheap storage media? I've heard their message of "we're not backup, but secondary storage" before, but at this event the distinction really clicked with me.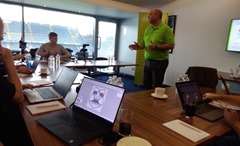 Whilst front-line production services often demand the best-performing storage possible, storage for backups doesn't (hopefully) need to be accessed regularly and doesn't require the speed of access that front line production systems might. Where possible organisations will purchase cheap(er) storage for this task, and this can lead to a separate backup storage silo.
If nearly 80 percent of stored data goes unused after 90 days then the majority of data on NAS/SAN filers also fits these access and performance characteristics, so why not combine the two and reduce the silo count? The Cohesity platform offers SMB and NFS, and can also function as an object store. This also helps justify the outlay on the storage for backup which, like an insurance policy, you hope to never actually need.
Similarly test and development workloads can often (but not always) be run on lower performance storage than their production counterparts. Again these functions are looking for similar attributes to backup when it comes to storage- keep the cost/GB low and don't impact on the performance of our primary production storage.
Cohesity's DataPlatform consolidates the traditional backup storage platform along with the ability to spin out test and dev workloads directly from this data, whilst also providing host file and object storage. For example, when the primary storage is upgraded to all flash, the NAS or test workloads that don't need this level of performance can use the Cohesity platform.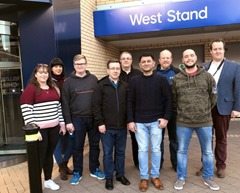 This was an interesting briefing, and for me this part definitely showed the potential for not thinking of your backup infrastructure solely as an insurance policy but continuing to find new ways to leverage that investment elsewhere in the IT function.
Please read my standard Declaration/Disclaimer and before rushing out to buy anything bear in mind that this article is based on a discussion at a analyst session rather than a POC or production installation. I wasn't paid to write this article or offered any payment, although Cohesity did sponsor the lunch, T-shirt, and stadium tour at the event. Attendees were also given a pair of bright green socks and matching branded shoelaces so you should be able to spot them.