CoreSuite - an Overview
The Microsoft 365 suite is used by over a million companies worldwide. The CoreSuite solution from CoreView looks to help those customers better manage the efficiency, investment, and risks that come with the SaaS platform.
Microsoft 365 comes with a number of portals, admin consoles, and associated tools that support the breadth of applications within the suite. CoreSuite bolsters that management plane by providing a single viewpoint for an entire 365 tenant (or multiple tenants). It compiles all this information into a single console to give operators the power to control and report on the entire SaaS platform.
With this product CoreView is looking to help organisations in 3 themes that cut across the whole of Microsoft 365, and beyond into other SaaS applications the platform discovers. These themes should comfortably apply to any organisation out there: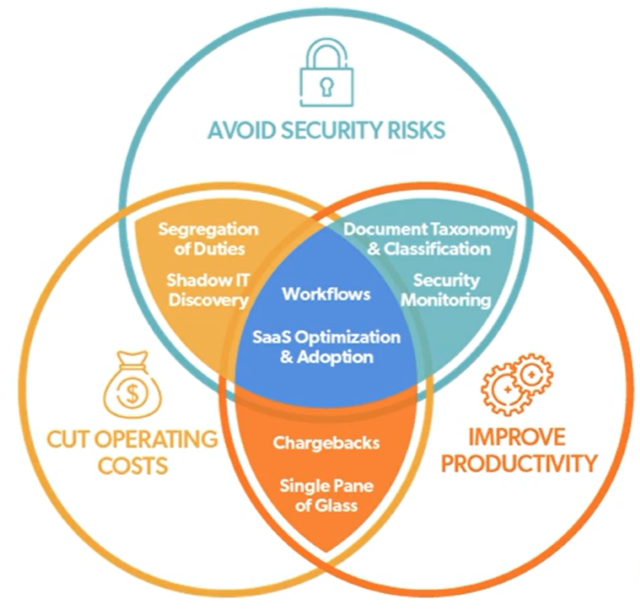 Your users continue to access their Office 365 applications in the usual way, CoreView sits alongsite the tenant providing additional functionality to the IT team managing the service. In a large organisation with many users, departments, or even subsidiary companies the control of licensing, reporting on (or recharging for) usage, and general day-to-day administration can require a number of staff in that IT team. Anyone purchasing the Microsoft SaaS solution for a large operation is in for a rude surprise if they think the days of needing dedicated IT to preside over it are over! Delegation of responsibilities is a key feature CoreView brings to address this challenge- reporting, management, and licensing tasks can be delegated down from the global admins using a comprehensive Role-Based Access Control (RBAC) system.
There's usually two extremes to access control for platforms like Microsoft 365. At one end you have the organisation where anyone who needs it is given administrative rights; often it's the quickest way to solve problem X, or perhaps rights not being removed when roles change. This is the obvious security risk, but the other end of the spectrum is where not enough people have the rights to do something. If you've read The Phoenix Project (and if you haven't, I'd recommend it) you may recall the character Brent. He becomes a bottleneck in his organisation because he's the go-to person for many systems, he knows how to fix things and has the permissions to do so. Office, and then Microsoft, 365 have grown into such a large platform that even if the team running it has grown, they can still become that constraint.
Both problems of too-many and not-enough admins can be addressed using CoreSuite's RBAC functionality- ensuring that admin tasks on the 365 platform can be distributed into the wider IT organisation whilst restricting the permissions to only those necessary for a role.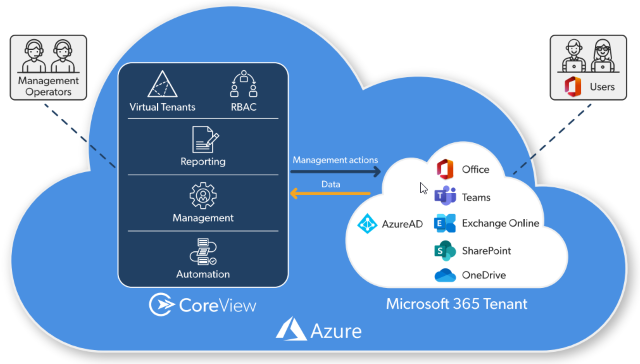 This RBAC system works by taking a customers 365 tenant (or multiple tenants) and offering them back to the operators as Virtual Tenants. Each Virtual Tenant contains a slice of the company's whole 365 environment defined by the global administrators. The permissions defined within the CoreView environment can be very granular- an audit team may need read-only access to the Finance department's services within the tenant, a local service desk might require password management to users based in the UK office, etc. Configuring such precise permissions is vital to enforcing the principle of least privilege and contributes not only to reducing security risks, but can also help increase productivity as operators are granted the freedom they need to do their job.
The reporting features of CoreSuite are comprehensive as well with hundreds of reports. Dashboards can show the operators the usage of various 365 products- helping optimise license purchases. You can then build on this by leveraging the features to drive up adoption through training and publicity campaigns, and then visualise the success of those schemes in a report. There are a range of security reports too- for example you can highlight email accounts which are forwarding messages to external mailboxes, or spot suspicious activity in SharePoint.
In summary, CoreSuite is definitely worth a look if you are involved in deploying or operating a large or complex Microsoft 365 environment. If this is of interest, below are some links for further reading/watching.
Further Information
---
In addition to my standard Declaration/Disclaimer please note that whilst this content was not provided by CoreView this is a sponsored post.