Experiences using Microsoft To-Do
For over a year now I've been using Microsoft's To-Do application to manage and organise my tasks. This has probably been the longest I've stuck with a personal task manager for some time, and I believe the app has just the right amount of features for me, sitting somewhere between Outlook tasks and a more in-depth project management/ planning application. In this post I will discuss how I use the app; you might find To-Do is something you want to check out, or if you're a current user you might find new ways to use it.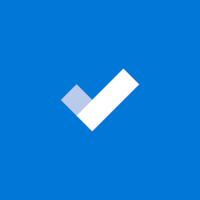 To-Do is not a heavy duty time management application, but it does allow you to manage personal tasks, set due dates or reminders, and have sub-steps if required. For example the "Deploy new Server" task might have "Buy Server", "Rack Server", "Configure Network", and "Install Hypervisor" as steps.
I use the one application for both work and personal tasks, using lists to categorise these but not having a separate application to go to for my non-work tasks. This helps me balance my time focused on the job against my personal time. I believe Work-life balance isn't just about not working in personal time. When done properly doing some personal activities in work time is balanced against when you have to work in personal time. For example I might answer the odd work email when sat on the couch in the evening, but I won't feel guilty about instant messaging my family from the office. Microsoft To-Do has a number of features that will help here, not least "My Day".
My Day is possibly the best feature in To-Do, and can be used similarly to a Work In Progress (WIP) panel on a Kanban board. Tasks from the different categories can all be assigned here, giving me a list of what I need to accomplish next, rather than being overwhelmed by a much longer list. This also allows me to mix those personal and work related tasks - I need to check my VMware licenses today, but I also need to book an appointment at the optician (who won't be answering their phone when I get home tonight).
When using My Day I set the sort order to put the tasks flagged as important at the top. These are the things I've marked that must get done- further down the list are the lower priority things I'd like to get done today, but might not.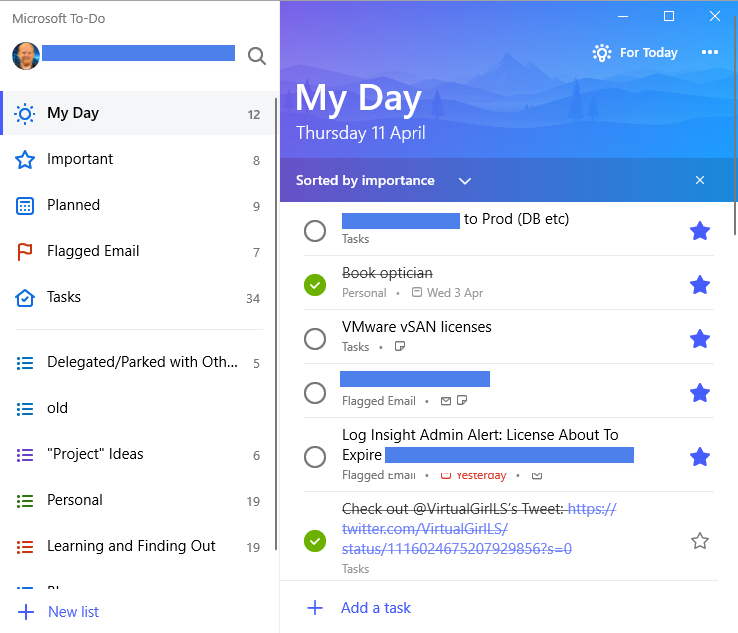 When starting up To-Do in the morning it offers me the "For Today" listing, so I can pick the tasks I need in my list at the start of today. These may be items passed over from the day before, one's I've had reminders set for today, or emails I've flagged and tweets or websites I picked up the evening before for follow up. With To-Do installed on my Android phone I can quickly share from the other apps, for example Twitter or Chrome to automatically create new tasks for my list.
Looking at how my task-lists have evolved, I have general "Tasks" for work related items and "Personal" for non-work ones. I also have a "Learning and Finding Out" list for all those educational links I want to fit in, and a "Blog" list for blog post ideas.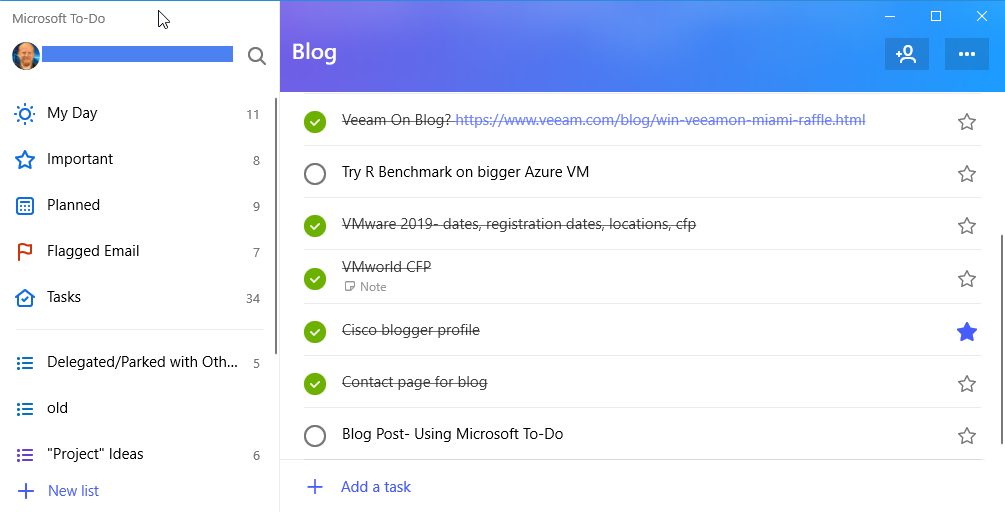 In addition to the general work list I have "Delegated/ Parked with Others" for where I have a task which I've subsequently passed onto a colleague but want to check back in on progress- things I don't want to totally disappear from my radar just because someone else is doing the work. I also have a list here for "Project Ideas"; these are those ideas which aren't quite a task yet, a list of "wouldn't it be great if we could do x?" or "should we be looking at implementing y?".
As To-Do is a single-user viewpoint it's important that it works well with the other work management tools I'm exposed to- project management, collaboration, and service-desk apps can't just be ignored. My method here is to take those support calls and project actions and add them to my To-Do list, this way I can manage my own time. It's important to remember that progress updates and documentation need to be recorded in the correct systems, but the use of To-Do as a simple tick list works well for me here.
As someone who has flipped between task management apps and their paper equivalents I'm impressed that I've been using To-Do for so long, so if you're on the lookout for a personal task manager I'd recommend giving it a try. If this app interests you, Microsoft has more details here: products.office.com/