Content Library fails to create when target datastore contains a space
A quick note on an issue I spotted in VMware vSphere 6.5 when creating a new content Library.
Symptoms
If the datastore being used for the new library contains a space in it's name then the Create Content Library process fails. The error given is "The specified parameter was not correct: The provided storage backing xxxxx xx for library xxxxx-xxxx-xxxx-xxx is invalid.". For example, if a second vSAN cluster has been created and the default name "vsanDatastore (1)" was used for the datastore.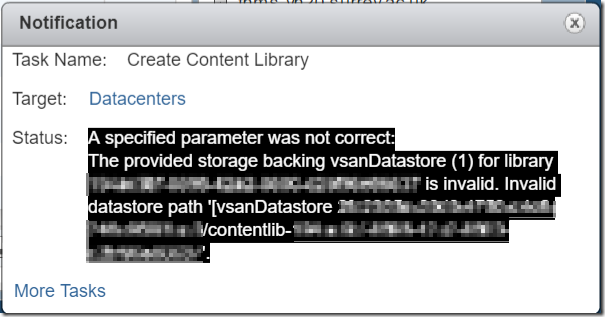 Solution
Rename the target datastore to a name which does not contain a space then repeat the Content Library creation process.
Notes
This occurred in my environment running vSphere 6.5 (vCenter VCSA build 6.5.0.14000) and hasn't been thoroughly tested for repeatability (at least by me).