Rolling back a failed VCSA HA deployment
The deployment of High Availability in the vCenter Server Appliance 6.5 is very slick and there's a great step-by-step walkthrough of how to implement it. However, sometimes things go wrong
In my case a misconfiguration in the underlying network meant that the hosts I was trying to deploy to couldn't reach each other on the new HA network. The good news is the smooth Installation process is accompanied by a smooth uninstaller when things have gone wrong. It's nice to see that this part of the application lifecycle process hasn't been ignored by the development team at VMware. With the right planning and a bit of luck, you'll never have to see this yourself- but here's some example screenshots.
The install has failed, the wizard was unable to configure HA, and we are left with a situation looking like this:

The vSphere Web Client is telling me "vCenter HA has an invalid configuration. Click the remove button to destroy the current vCenter HA cluster configuration". And it is really as simple as that, clicking Remove starts the process- this doesn't destroy your vCenter environment- just the failed HA attempt – and vCenter reverts back to the model it was using beforehand. We get a nice clear explanation of what is going to be done, details of what manual steps may be necessary, and an option to change our mind.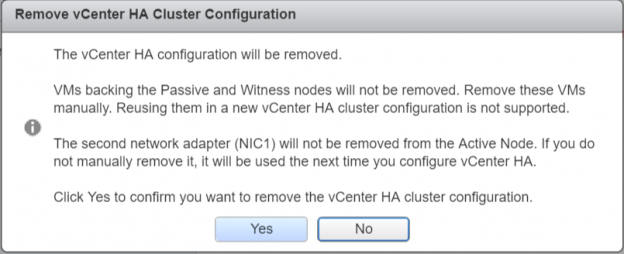 The task proceeds like any other vCenter operation, showing as Completed in the Recent Tasks bar- in my homelab this removal task took just 11 seconds.

Once done it was just a case of powering down and removing the defunct Passive and Witness VMs, fixing the pre-existing fault that had caused the error in the first place, and then running the install again.It should end up looking something like this:

It's always good to see that development effort has been put into helping the user when something unexpected has occurred and this is a good example of that.