VMWare vForum London 2014
Earlier this week I attended the VMWare vForum in London. I'd missed last years, but it was good to return to Wembley Stadium- especially on the eve of the World Cup.

For anyone vaguely interested in football Wembley makes a superb venue steeped in history. We enter up Olympic way, beneath the statue of Sir Bobby Moore, get whisked through registration, up past cabinets of World and European cup memorabilia, and into the Bobby Moore Suite where the main exhibition space is located. The talks are held in the halls and suites on the floors above- some of which offer views of the pitch -at least on weeks when it hasn't been covered up for a One Direction concert.

The opening session was presented in the main part by Joe Baguley, VMware's CTO for EMEA. Focused on "The Software-Defined Enterprise" this really set the theme of the day: Self-Service. He says customers are after "a self-service infrastructure that conforms to Enterprise IT requirements".
Richard Munro followed this up with an introduction to the vCloud Hybrid Service, vCHS- offering the ability to extend an on-premise virtual infrastructure into the cloud. Applications can be migrated up and down thus opening doors for things like DRaaS (Disaster Recovery as a Service) or being able to provision a server from your corporate Gold Image and get the business up and running whilst you're waiting for some local tin to be delivered.
After coffee the talks split into three tracks- I started with "Virtual Workspace"- Garry Owen (EUC Product Marketing at VMware) talked about VDI and delivering services to any device. VMware is pushing it's Horizon 6 Suite in this arena, and Garry says the "Virtual Desktop Technology has reached a critical mass, almost by stealth".
Windows PCs and apps aren't dead, just not the only game in town anymore. Garry Owen at #vForum #London

— Chris Bradshaw (@aldershotchris) June 11, 2014
The ability to push out more than just the basic apps via VDI has certainly raised the possibilities for me- Garry reported that NC State University are using the Horizon platform to deliver BYO access to apps –including 3D ones- for 33,000 students. The next talk by David Agwin from Dell reaffirmed this- they use PowerEdge servers stacked with NVidia K2 GPUs to deliver engineering workstation performance via VDI.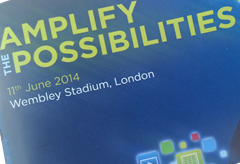 Again, there was a focus on offering self-service access to applications and services. As long as the network is working. Without it VDI just doesn't function.
After lunch I went to hear Lee Dilworth (a Principal SE at VMware) talk about Virtual SAN- using direct attached storage across a cluster of physical servers to produce a single, flexible, datastore. There's no concept of LUN or volume here- each VM can have it's own storage policy, we no longer have to say "VM A has resilience X because it's in LUN 10 and LUN 10 has that resilience because it also holds VM B". I can definitely see the potential here, but it's going to be a while coming in my own environment.
My day finished back with Richard Munro going into a bit more depth about vCHS. As well as the technical details there was more information on the procurement model -vCHS is purchased as a Resource Pool, rather than individual VMs. This helps drive down the cost of hosting a DR solution in the VMware cloud because the duplicate infrastructure won't be consuming any of these resources until it is needed. When it is needed the Resource Pool can be extended as required.
Last session of the day- listening to @RikMunro talk about vCloud Hybrid Service. Now I can cloudify my MS-DOS apps :) #vforum

— Chris Bradshaw (@aldershotchris) June 11, 2014
All in all a good day (even if I didn't win the Playstation 4) and a there's plenty of new ideas floating round my head. Maybe next year the World Cup will be on display after England win it in Brazil.